COVID - 19 Statement (effective until further notice)
Premier Garage Equipment Ltd put the Health and Safety of our Customers, Employees, Contractors and the Public at the forefront of our operations. Before lockdown, Premier took steps to put additional H&S standards in place in connection with COVID – 19.
Premier has put the following measures in place "until further notice" and is continually reviewing the situation on a daily basis, adjusting to meet demands as required.
We have put in place building control at our Head Offices at Stewartby, therefore all external doors are locked. Anyone entering the building will have to use the sanitation stations at all entries to the buildings, if they are permitted to enter. We have also put in place a work from home policy with some of our staff, this ensures we minimise the numbers in the office.
Premier Garage Equipment Head Office in Stewartby:
Till further notice there will be no meetings at our offices.
Anyone who has to visit will be asked to carry out hand washing, use of hand gel and wipes. (gloves and masks are available as required)
We have advised there should be no greetings (handshakes etc) whatsoever.
We also ask that everyone maintain a 2-metre distance (wherever possible) from others.
At customer sites, we have advised our engineers and staff to carry out the following:
On Site:
Conform to any of the customer's requirements as normal.
No handshakes.
Maintain personal distancing (2M) where possible.
Use the wipes supplied by Premier to sanitise equipment or tools where required.
Ensure sanitising of hands before entering the customer's site.
The use of paperwork will be minimised if not removed altogether. Any use of the mobile tablet will be cleaned after use.
Wear disposable gloves on-site at all times. (masks are also available as required)
At the end of the job, clean down equipment to a very high standard and ensure all waste is disposed of, in accordance with control measures..
Before leaving the site, "dispose of any gloves or wipes" in accordance with the customers control measures.
Use the wipes to sanitise all parts of the vehicles used ie steering wheel, door handles, crane controls as required.
Any reusable rags are deposited in the mobile waste container carried by Premier vehicles and returned to our office for controlled anti bacterial washing and recycling.
We would expect any of our subcontractors to meet our requirements as above.
​
Due to the strict controls we have put in place we would ask that our customers adhere wherever possible to our precautions.

Driven By Quality & Excellence

Garage Equipment
Sourcing the right equipment for your workshop can be crucial to the success of your business. We can take care of anything garage-related, from brand new builds to workshop redesigns, from new MOT bays to lifts, wheel and tyre equipment and more.

Industrial Doors
Are you in the market for an industrial door or automated gate? As DHF members we have built a strong reputation with a wide range of customers supplying and installing doors and gates on commercial premises across the UK. Considering a new purchase?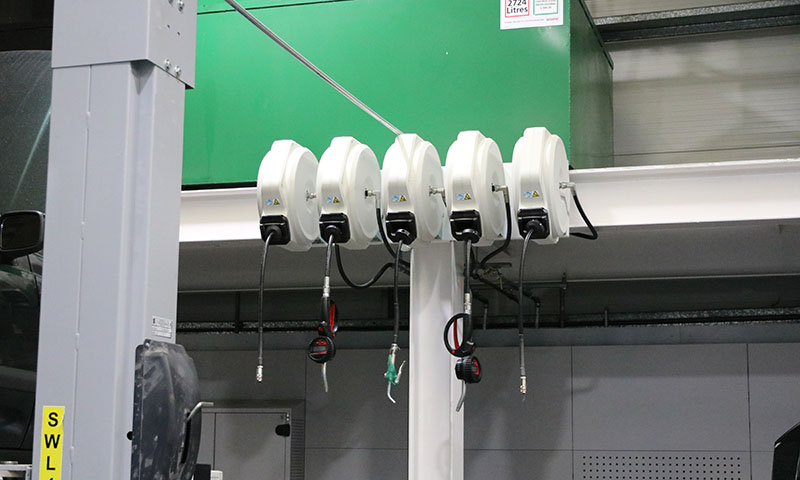 Liquid Engineering
The PGE liquid engineering division deals with the storage, distribution and management of a wide range of liquids and oil products across industry sectors including: car, van, commercial, industrial and manufacturing. We are also specialist consultants on oil storage regulations.
Garage Equipment Services
Industrial Doors Design & Installation
At PGE, we provide a one-stop shop, from the initial survey, through to design, supply and installation. We can install roller shutters, sectional overhead doors, sliding folding and rapid action industrial doors as well as a wide range of automated gates.
Industrial Doors Aftersales
Following the installation of your new industrial doors or automated gates, you can enjoy an unbeatable aftersales experience. Customer care is high on our list of priorities and covers industrial door maintenance, repairs, legal compliance and access to our new, real-time customer portal.
Liquid Engineering Design & Insallation
Liquid engineering systems are a core component in many industrial settings. How you store, handle and manage liquids on your premises can affect security, safety of employees, productivity and profitability. Need help getting the design and installation of your liquid engineering services right?
Liquid Engineering Aftersales
The aftercare team at Premier Garage Equipment are always on hand with a range of support services whether it's consulting on oil storage regulations or taking care of your equipment. This includes: maintenance contracts, calibration contracts, breakdown and repairs.