Call or email us to discuss your garage equipment survey, supply,
install and maintenance.
HYUNDAI CASE STUDY
from Premier Garage Equipment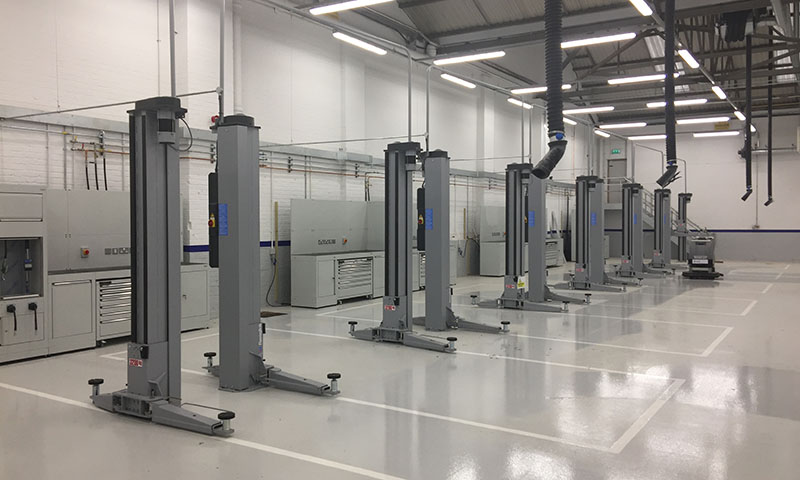 The Hyundai North London dealership (part of the Endeavour Automotive Group) is located in Southgate, north London, having moved in 2018 from their previous site on the West Hendon Broadway. This site is a flagship dealership for Hyundai in the UK.
Like many of our clients, we've known and worked with them for over 20 years across a number of franchises.
Hyundai was going through a period of investing heavily in its brand across the UK and so the brief for this project was substantial. It involved the complete redesign and installation of a new workshop, approximately 400m2, including garage equipment and liquid engineering systems.
When we started works, the warehouse was essentially a shell with only the steelwork and concrete foundation slab intact. The dealership were able to retain the existing rear and side walls, but due to being a new dealership they designed and created a new frontage.
Our designs included seven new workshop bays with a range of services including:
Seven 2-post lifts
Complete cabinetry system (to Hyundai specifications)
Services for air, oil, water, exhaust extraction
Waste oil management system
MOT/wheel alignment combination bay
Tyre fitting equipment
Tank farm
Compressor
Project timescales were estimated at six weeks and the project budget was set at £150,000; both targets were met with no overruns, much to the client's satisfaction.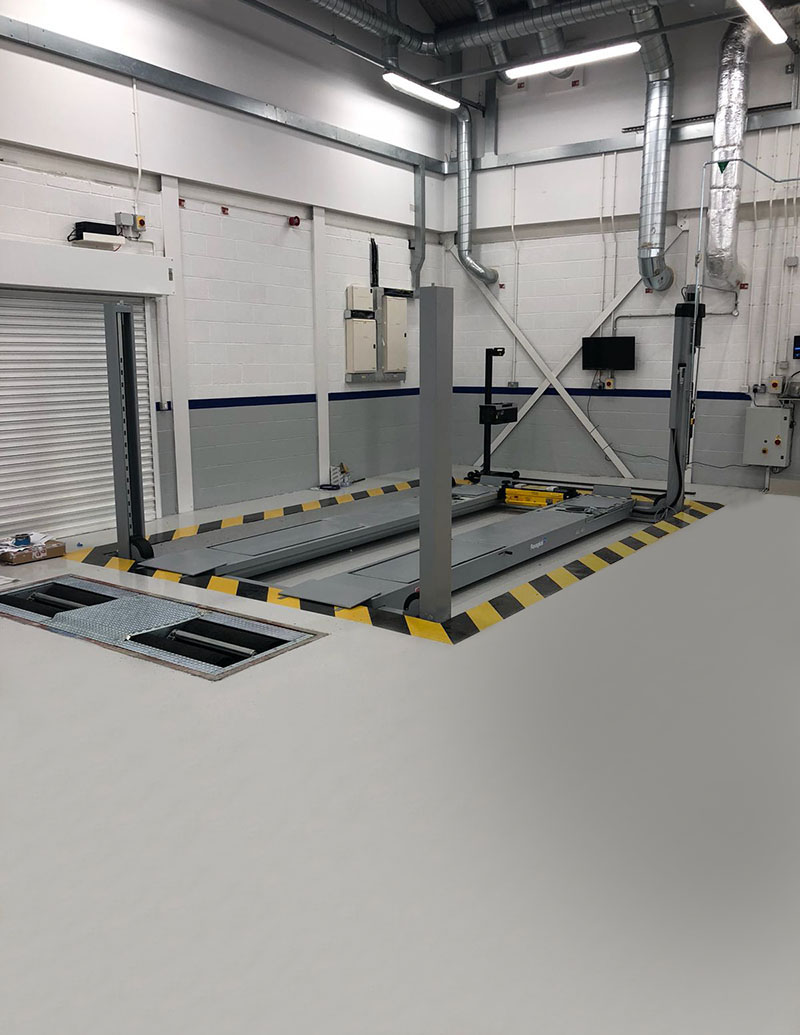 What did the design stage involve?
With such a large and, potentially, complex project, we knew we had to approach the design phase with caution to ensure that we'd accounted for everything prior to installation, at which point remedying errors would be far more expensive.
With careful planning, it turned out to be a fairly straightforward project, including the design of the MOT bay, which initially sounded quite complex, as it was designed into the shape of the proposed area and also incorporated the latest wheel alignment equipment. This was overcome by close liaison and coordination with the other mechanical and electrical designs to meet the DVSA approvals.
Hyundai had only recently introduced Dura cabinets and there were a few reservations about how these would look when completed. To help manage our client's concerns, we produced multiple design renders to illustrate the various colours and styles available and how these would look in reality. Both Hyundai and the client were delighted with the outcome of the corporate look and feel of the cabinets.
During the design phase, there was much discussion about how the cabinets would fit around existing infrastructure including the concrete columns which were holding the building up. There were few straight lines and perfect angles, so to install the cabinets to Hyundai's specification, we had to disguise all and any imperfections and create a uniform appearance along the wall which also hid the unattractive concrete columns. We did this by pulling the cabinetry forward along an artificial straight line and manufacturing custom end panels to ensure a polished and professional finish.
Were there any other complexities to consider?
The oil tanks were sited on a mezzanine area above ground level which meant filling and emptying was impractical. We got around this by designing and installing a remote filling station with an alarm to prevent accidental overfill.
We're always happy to consult with other contractors and on this project, we even designed the electrical supply requirements for the bays which the electrical contractors then used as their brief. It meant that we could be confident the electrical supply throughout the workshop was in the right locations for the right tasks.
One of the main reasons our projects tend to run smoothly is thanks to meticulous forward planning and scrupulous management of other contractors to ensure all parts of the project come together seamlessly.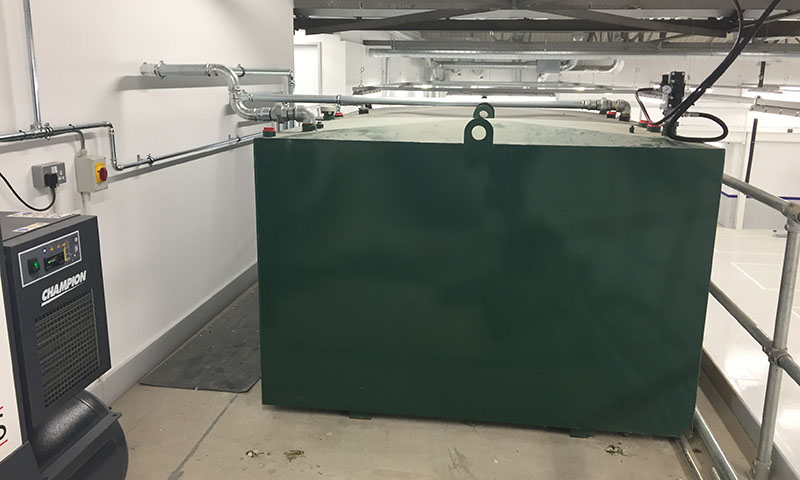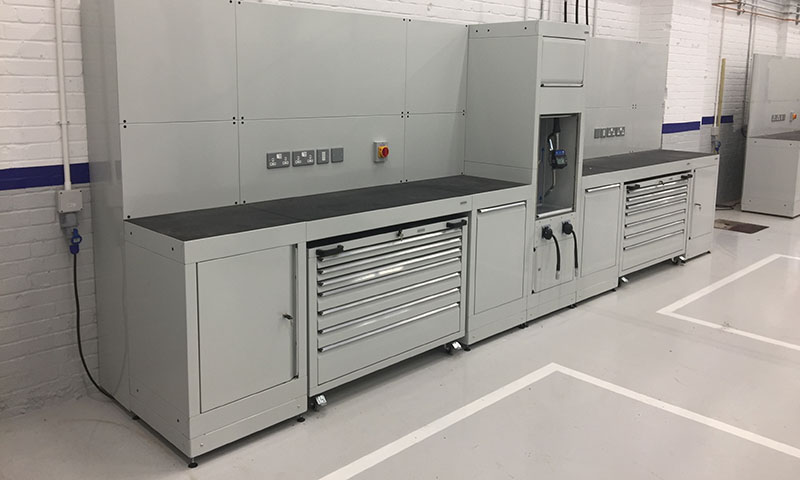 Many of our clients have worked with us for years, sometimes decades. We invest heavily in building customer relationships, including doing background work (free of charge), such as drawings, for clients considering new projects. In this way, we grow relationships organically and prove through the quality of our work, that we are a valuable supply chain partner.
It's also extremely important to us that we stay on budget and on time on all our projects, unless there is a compelling reason not to. Many contractors struggle to meet these commitments but we build it in to our planning and estimating processes so that we don't disappoint our clients. We are also hot on communication and constantly keep clients informed of progress and where there are delays, the reasons why. As the saying goes, it's good to talk!
Following completion of this project, we now maintain the site, including all service work, equipment calibration, breakdown management, liquid engineering services and servicing of the industrial doors.
The benefit of a preventative approach is that it maintains equipment for years to come and helps to keep replacement costs low.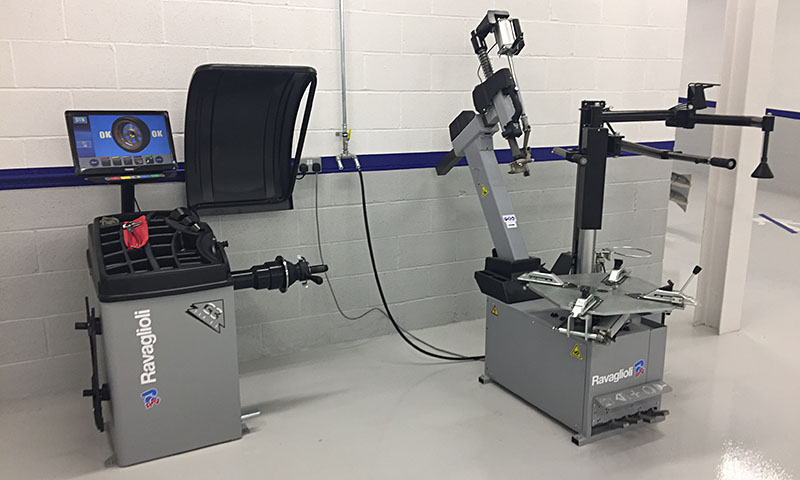 What Our Customer Had to Say

John Caney - Chief Executive
"PGE is highly regarded by our group of franchises as our preferred partner in workshop design. We have worked with them on a whole range of projects from minor upgrades all the way up to complete workshop redesigns. For example, at our Hyundai dealership in North London they have created, designed and installed a cutting edge workshop environment where our talented technicians are proud to work. We are constantly assured that they adhere to the highest standards in line with building regulations and health and safety legislation."