Call or email us to discuss your industrial doors survey, supply,
install and maintenance.
SECTIONAL OVERHEAD DOORS
from Premier Garage Equipment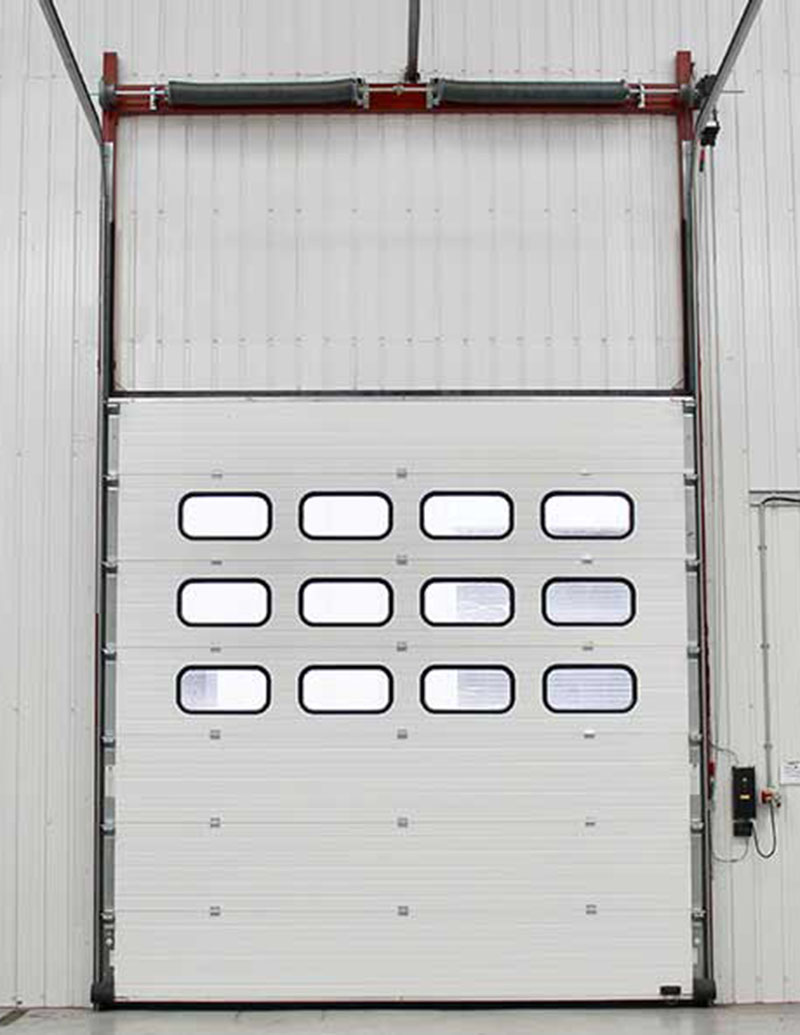 The popularity of the roller shutter door often overshadows the benefits of the sectional overhead door which offers a great deal of flexibility both in headroom and aesthetics. At PGE, we stock a wide range of sectional overhead doors sourced carefully from quality manufacturers in the UK and across Europe.
In procuring our range of sectional overhead doors, we've scrutinised the feedback you give us to ensure that all your needs are addressed. You can choose from a standard size or request a custom fit which we're happy to design to a specific brief. As with all our industrial doors, there are options for manual or electric operation.
All doors come with additional glazing options, including vision panels and in a range of colours and finishes. If a modern industrial look combined with reliable and secure access control is what you've got in mind, the sectional overhead door ticks a lot of boxes.
What's the difference between a roller shutter and a sectional overhead door?
Operationally, the difference can be easily understood by looking at the mechanism on the inside of the door. The roller shutter, as the name suggests, rolls vertically upwards onto a roller which sits directly inside the opening. It requires no tracks and takes up no internal space other than the roller, however, this can have an impact on available headroom at the entrance to your premises.
The sectional door is constructed in sections which move vertically in the same way as the roller shutter, but instead of rolling, they move smoothly along tracks mounted at ceiling height which run from the front to the back of your premises. This means that headroom is generally less restricted although the track mechanism will still need to be accommodated.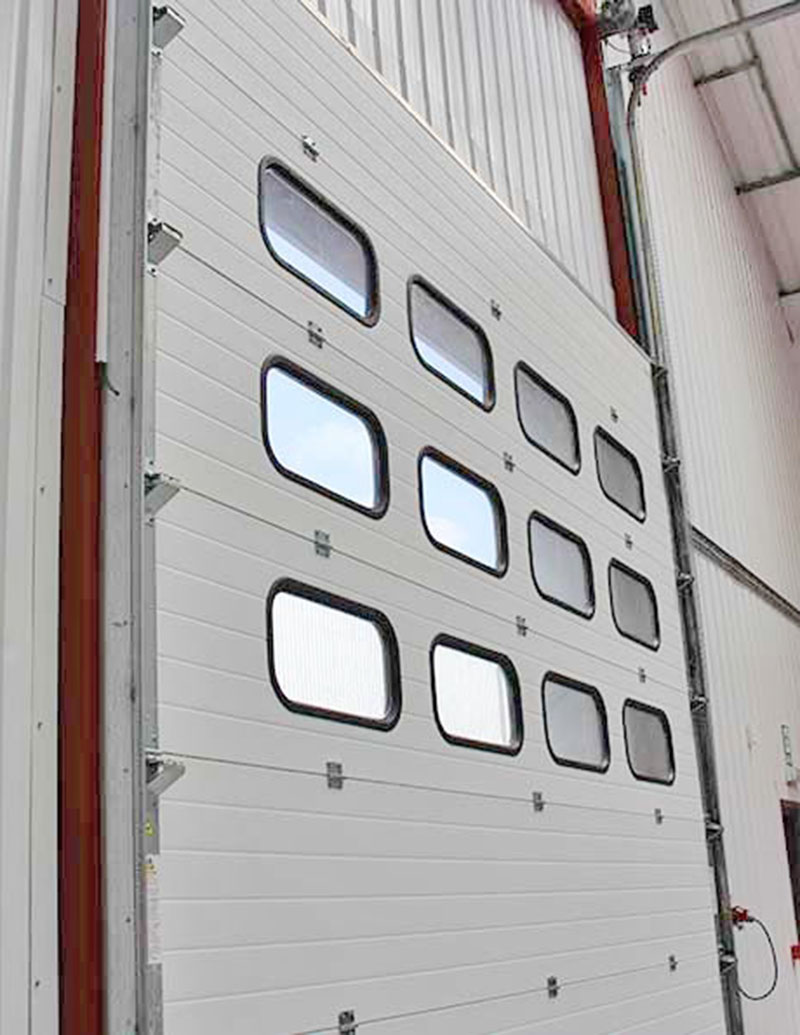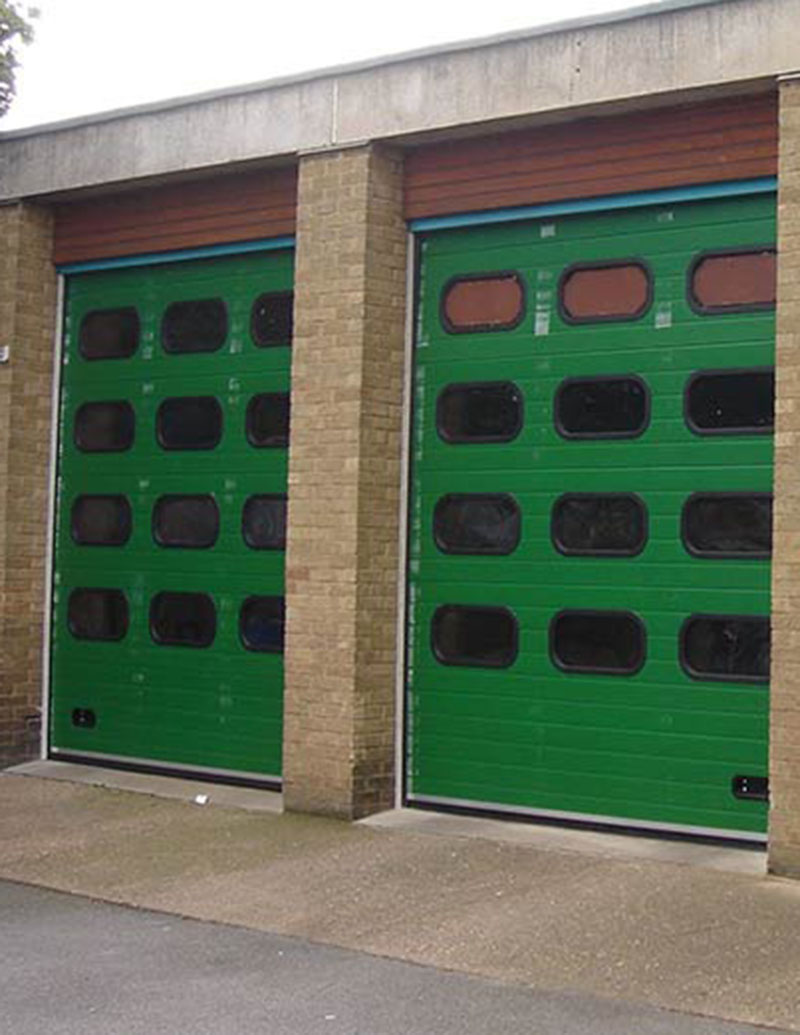 Flexibility of design
One of the main attractions of the sectional overhead door is the way it looks (more modern aesthetic with fewer gaps between door joints than other doors) and the design options available. We supply these doors in a range of styles and colours so if branding and styling is important to your business, this is definitely a door you'll want to consider.
The sectional overhead door is constructed from individual sections measuring 500mm to 600mm wide which can easily be customised to specific dimensions, making it ideal for customers who can't buy 'off the shelf' due to size constraints.
This flexible construction method also allows manufacturers to add in glazed panels and pass doors where required. Even better, if a panel is damaged, the repair can be localised to that module alone, meaning downtime is reduced and repair costs are minimised. These doors have fewer moving parts and don't deteriorate as quickly as roller shutters. That doesn't mean access speeds are compromised – the sectional overhead door is still as quick as a roller shutter to open and close.
Materials
The operation of the roller door means it can only be fabricated using metal, usually steel or aluminium with high density foam for installation. In contrast, there are no such restrictions with the sectional door and it can be produced in metal, timber or fibreglass, each lending a unique look and feel to the finished product.
Energy efficiency/insulation
Most manufacturers pride themselves on prioritising energy efficiency in door design. Our range of sectional overhead doors all perform extremely highly in this area, providing minimal opportunity for heat to escape through gaps or for cold air to flow in. They will more than adequately protect your premises in all weathers which is good news for new builds which must conform to ever more demanding building regulations on insulation.
Security
Ensuring your industrial environment is secure at all times is a key priority. Sectional doors are an excellent choice in this regard. Robust and close-fitting, they are almost impenetrable to would-be intruders.
Durability
These doors are proven time after time to endure over many years of regular operation. And thanks to its simple construction and relatively few moving parts, the sectional door is easy to service and maintain.
What is a compact sectional door?
A compact sectional door is fairly unique and tends to be used instead of a regular sectional door when there are height restrictions and the overhead version isn't a viable option. It behaves more like a roller door, stacking the sections vertically behind the lintel, similar to a pack of cards. The mechanism required for this door is fairly complicated and can be costly to repair or replace.
Benefits of sectional doors at a glance
Strong aesthetic appeal with wide choice of colours and designs
Highly energy efficient with additional thermal properties
Can be designed to fit openings of all shapes and sizes
Practical for every day, regular usage in high-traffic areas.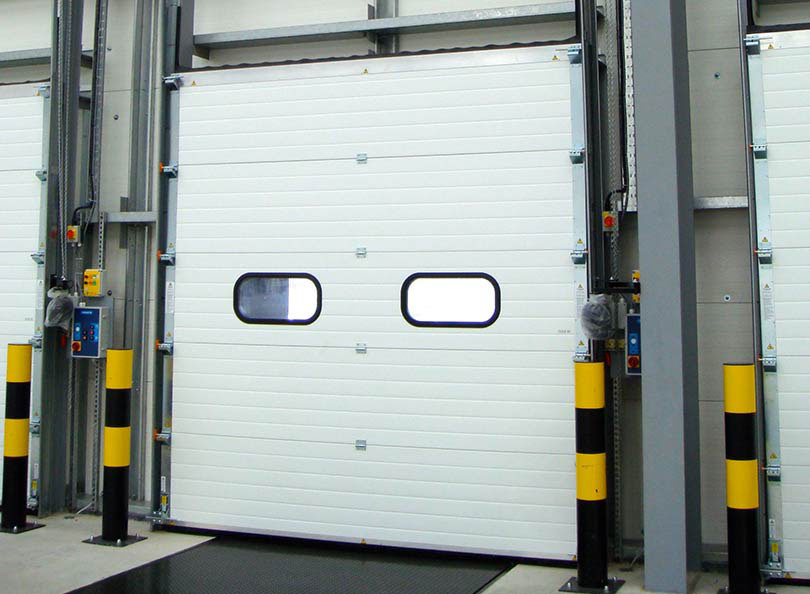 At PGE, we're committed to providing you with an outstanding service now and in the future.
We're on hand to help with your decision-making during the purchase phase, and then we're by your side ready to help with repairs or to deliver long-term maintenance and servicing.
We'd love to hear from you. Get in touch today to find out more about our extensive range of sectional overhead doors. We're confident you'll find exactly what you're looking for.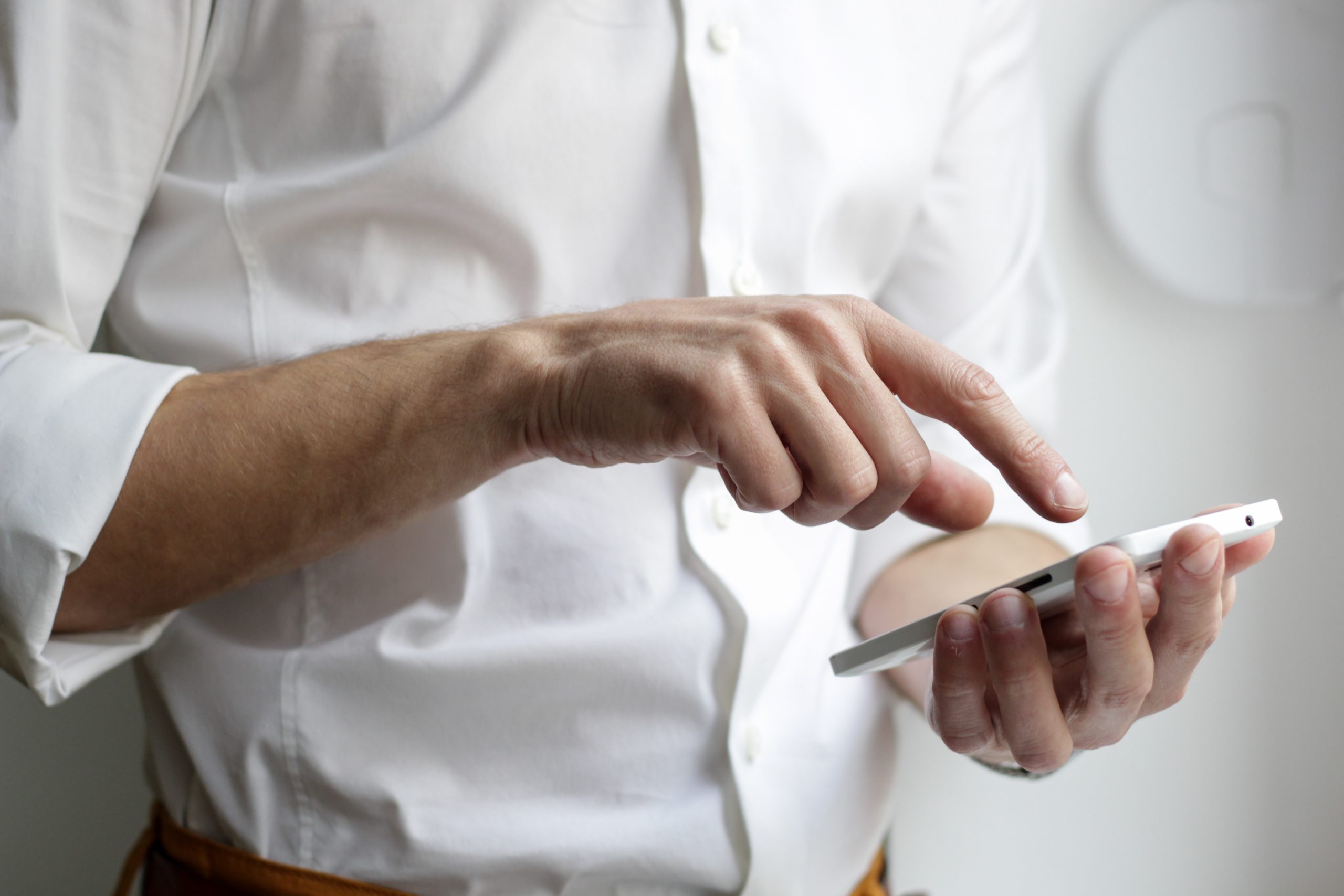 Need Some Help?
If you would like to find out more about industrial doors and discuss how Premier can help you, call us on 01234 765308 or complete the form for a call back.