Call or email us to discuss your industrial doors survey, supply,
install and maintenance.
INDUSTRIAL DOORS – AFTERSALES
from Premier Garage Equipment
Industrial Doors – Aftersales
Following the installation of your new industrial doors or automated gates, you can enjoy an unbeatable aftersales experience from us all at PGE. Customer care is high on our list of priorities which is why we have such an excellent track record for loyalty and customer satisfaction. We're also happy to offer customer care to customers who have purchased their doors from another supplier. We'll need to run a quick site survey but following that, we're happy to adopt all maintenance and repairs.
Our technicians are on hand to oversee the long-term maintenance of your doors and gates, which is essential to prolong their life and minimise the likelihood of costly repairs. If repairs are inevitable, we'll take care of everything you need to get your doors back up and running as soon as possible.
Our customer care doesn't end there. We've developed our new customer portal to make doing business with PGE that much easier. You can now book in new jobs, stay informed on the progress of accepted jobs and download all your paperwork and certificates when you need them. All without having to pick up the phone!
And finally, our team are specialists in health and safety, and legal compliance, and we're always on hand to guide you through the complexities both topics can throw up.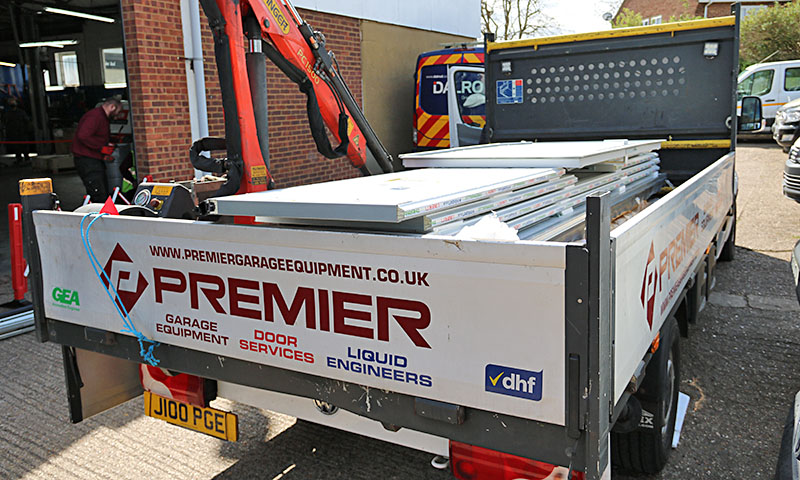 info@premiergarageequipment.co.uk
INDUSTRIAL DOOR MAINTENANCE
from Premier Garage Equipment
Industrial Door Maintenance
General, and specialist, preventative maintenance is always a good idea. Waiting until something goes wrong with your industrial doors or automated gates rarely ends well and usually costs more money in the long run than a planned maintenance schedule does. You must also factor in the downtime while doors and gates are out of operation and the cost this represents. In environments which are hygiene-sensitive or temperature controlled, the knock-on effects can be significant.
We can create a bespoke maintenance package for you depending on the type and number of industrial doors and automated gates on-site and how frequently they need servicing. Industrial doors often experience heavier use during winter months as they can be left open during warmer weather – so you may want to factor in more frequent visits during autumn and winter.
PUWER 1998 regulates state that machinery should be serviced at least once every 12 months, as a minimum standard.
There are several checks we usually run which include structural, security, technical and operating checks. You can also run your own maintenance checks with simple tasks such as running visual checks for faults, regular cleaning and oiling of working parts. We can provide a few pointers and simple tips to help you keep your industrial doors in good condition. And if you spot anything out of the ordinary, just give us a call.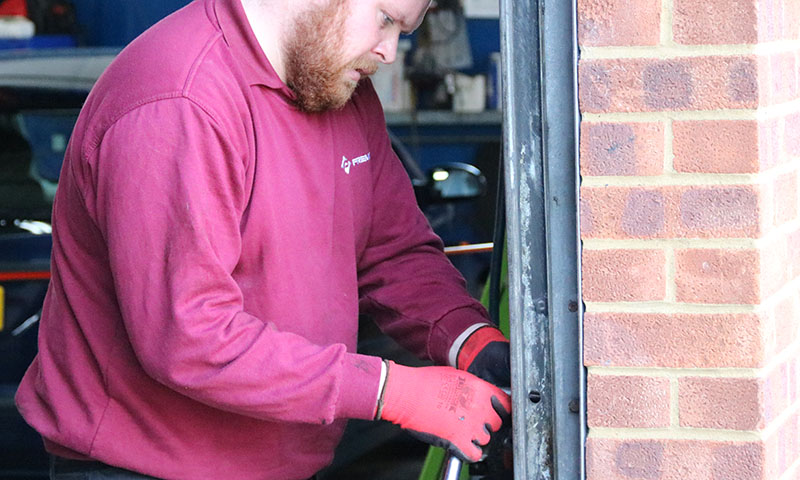 info@premiergarageequipment.co.uk
INDUSTRIAL DOOR REPAIRS
from Premier Garage Equipment
At times, repairs are inevitable and also essential to avoid a replacement door or gate. On these occasions, our priority is to complete these repairs as soon as possible to avoid unwanted business disruption. We understand how stressful this can be.
As soon as you notify us of a fault needing repair, your job is booked in (or you can book it in yourself via our customer portal) and a time is arranged for our technicians to visit your premises. Friendly to a fault, highly trained and capable, we have total confidence in their skills and their ability to get you back up and running quickly.
If you have a proactive maintenance plan, it's unlikely you'll need emergency repairs, but if one does arise, rest assured we're always on hand to take care of it.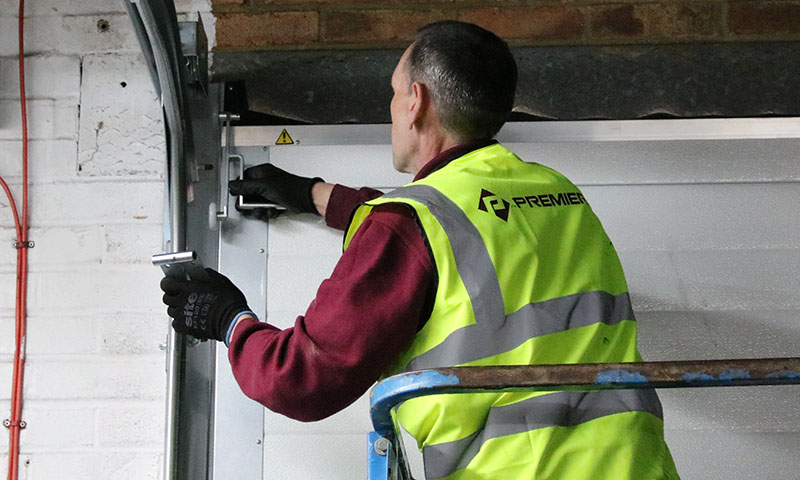 info@premiergarageequipment.co.uk
It's the age-old question. In most cases, it's preferable – and more economical – to repair than replace, if possible, but in some cases, you may be throwing good money after bad. If there are multiple faults to repair, the combined cost may be greater than the price of a new door or gate. And it goes without saying that it's rarely advisable to put a price on security and safety.
If your industrial door or automated gate has considerable damage or is very old with wear and tear, it will most likely need replacing. Remember, new products offer many benefits including improved security and functionality.
We know it can be tempting to try and carry out your own repairs – but unless you are an experienced technician, we would always advise against this. You may do more harm than good!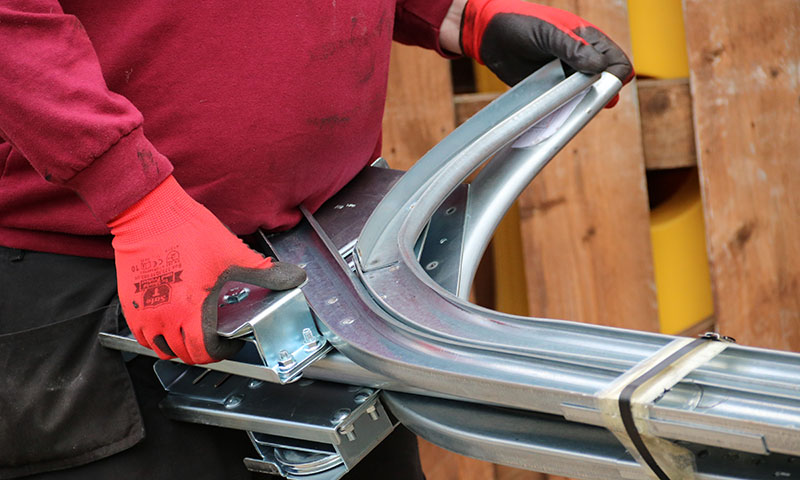 info@premiergarageequipment.co.uk
LEGAL COMPLIANCE
from Premier Garage Equipment
Our commitment to our customers extends beyond maintenance and repairs. We also commit to ensuring you stay on the right side of the law. Our duty of care compels us to make you aware of all current regulations and to help you navigate the complexities of those regulations if you require it.
The Provision and Use of Work Equipment Regulations 1998 (PUWER 1998) is the primary legislative tool used to manage the standards of machinery and other equipment in the workplace. PUWER 1998 was issued following the recommendation of the European Commission and regulates how equipment is used, by whom and how often it is inspected and serviced.
Under PUWER 1998, you must ensure that your equipment is:
Suitable for the intended use
Correctly installed according to manufacturer instructions
Maintained and inspected
Used by trained people
Fitted with safety measures in place, such as safety devices, markings and warnings
Do you have training procedures in place for people using equipment? Are you clear on your responsibilities? Under PUWER 1998, technicians should always receive adequate training and safety information – if you're unsure what this means, please get in touch and we can advise you. We can also provide training programmes via a third-party organisation with whom we partner.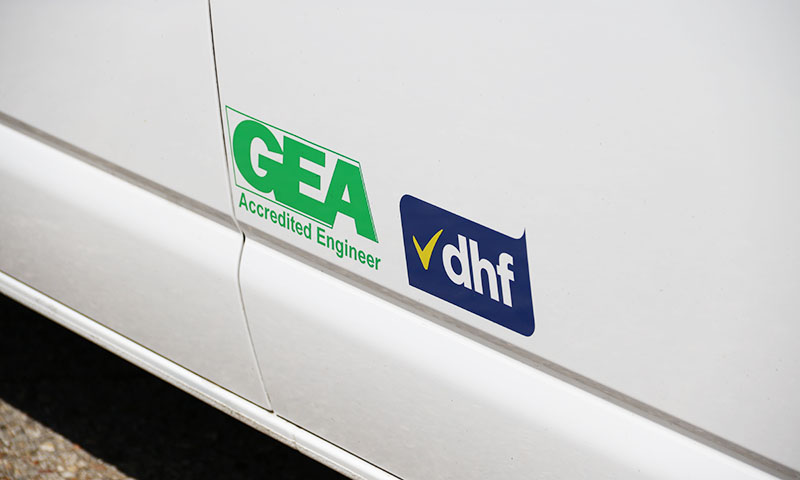 info@premiergarageequipment.co.uk
MANAGE YOUR ACCOUNT
from Premier Garage Equipment
Manage your account in minutes
If you've had industrial doors or gates supplied and installed by us, you will automatically be given access to our new, real-time customer portal. For times when you need to quickly lay your hands on an invoice, or want a progress update on a job but don't have time to call us, it's exactly what you need.
It acts as a virtual interface between you and us and can be easily accessed from any computer or tablet, via a web browser. We've added plenty of functionality to ensure you get the most out of using it.
For new, in progress and completed jobs there's a dedicated jobs section. You can book jobs in without having to call us and we'll keep you updated – in real time – of their progress.
All quotes for jobs, both new and in progress, are stored on the portal. And once jobs are completed, all associated paperwork, such as maintenance records, certificates and asset registers are uploaded and stored should you need it in the future. It takes seconds to find them and then download for viewing, emailing or printing.
It's quick and easy to use and requires no training. Just go online, click on the links and off you go!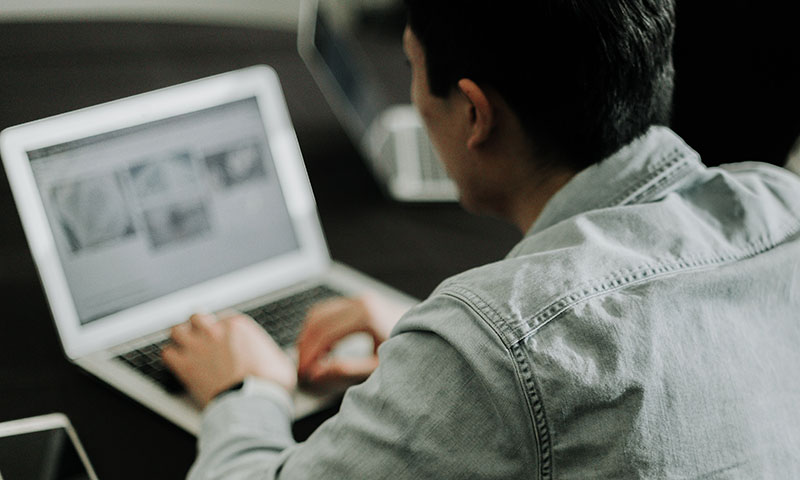 info@premiergarageequipment.co.uk
Are you Looking for Industrial Door Maintenance, Repairs or Help with Legal Compliance?
Choosing the right supplier for your industrial doors and automated gates is important. They are a major purchase for many businesses and getting the decision right first time is essential. We're here to make the process as streamlined and hassle-free as possible. To find out more about PGE, please get in touch today.
Related Industrial Door Aftersales Services
All of our services go hand-in-hand, you may also require our help with: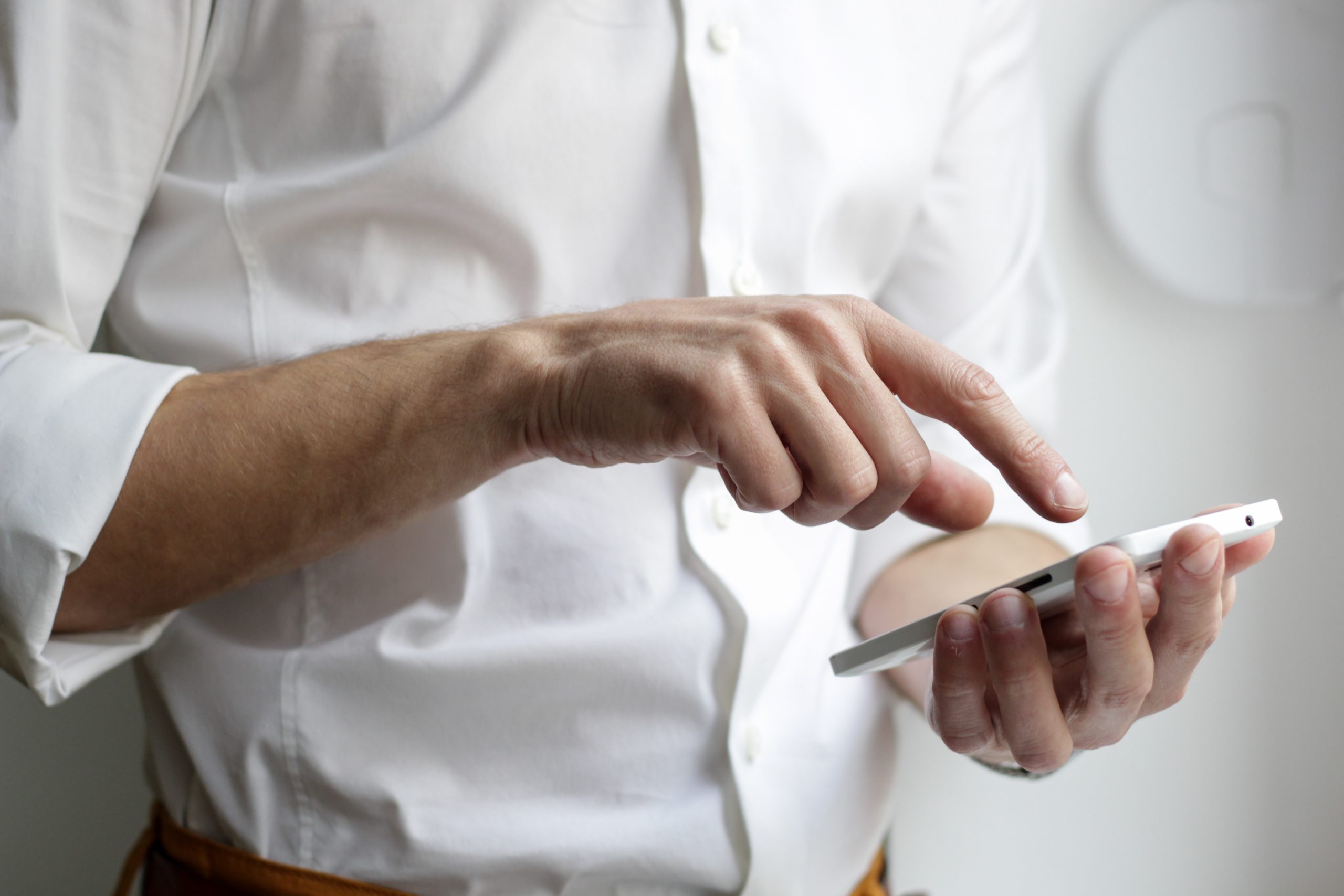 Need Some Help?
If you would like to find out more about industrial doors and discuss how Premier can help you, call us on 01234 765308 or complete the form for a call back.

Director - Neath Hill, Milton Keynes
"Having worked with PGE for many years we knew who to call when we experienced a malfunction with our industrial door. One busy afternoon our main garage workshop door simply stopped working and would not close from an open position. Our premises are sited close to a busy shopping area so we were obviously concerned about security and could not leave the door open overnight. We called PGE who promptly responded and sent an engineer out to site. He fixed the problem quickly which meant we could breathe a massive sigh of relief!"