Call or email us to discuss your industrial doors survey, supply,
install and maintenance.
ROLLER SHUTTER DOORS
from Premier Garage Equipment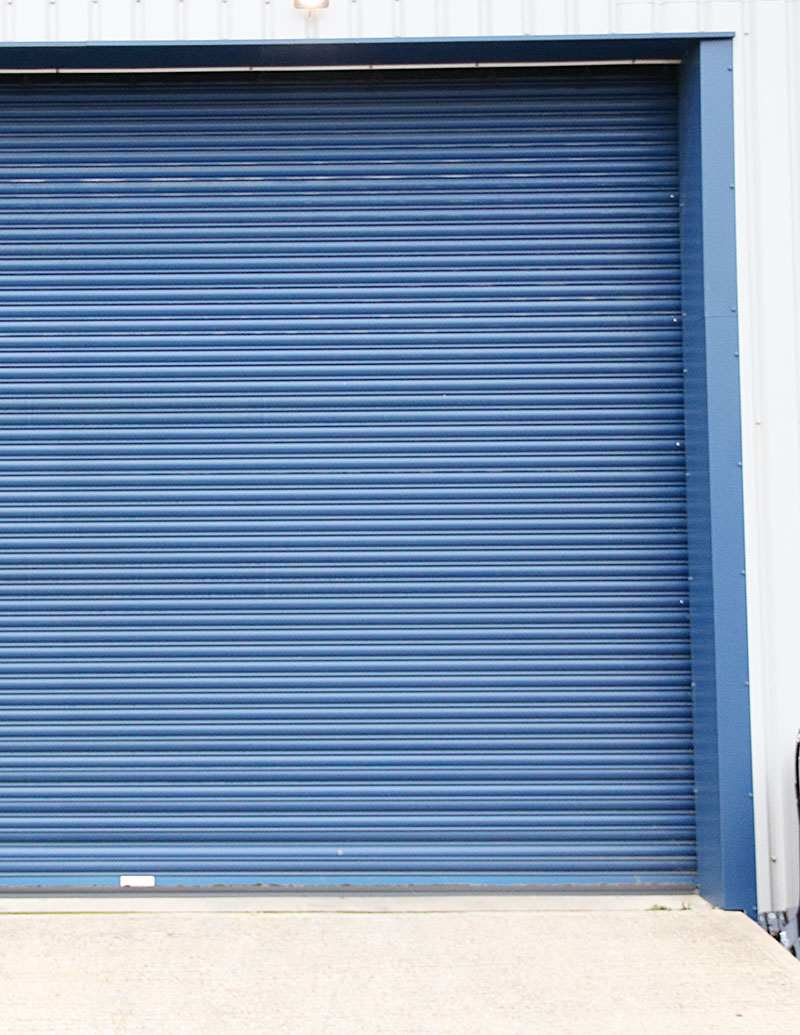 Roller shutter doors are practical, versatile, reliable and hard-wearing, able to withstand regular use and harsh weather conditions. They're a popular choice and for good reason. They provide your business with instant security and access flexibility at a reasonable price, not to mention offer significant energy savings potential.
Where can I use a roller shutter door?
With a compact design, roller shutters are ideal where headroom may be limited above the structural opening. The shutters roll back smoothly behind the lintel requiring minimal space above or at the sides of the aperture.
Roller shutter doors are suitable for many industrial applications including warehouses, factories and offices, and ranging in size from small units to full sized doors for larger premises such as factories and warehouses.
However, if you're in the market for a new roller door, you should be aware that there is a huge range available so it pays to do your research.
When you buy a door from PGE, we help you with this research. We'll discuss your requirements and help guide you to making the right decision with a few questions. For example, what environment is the door for, what will be going through it, would you like a roller or sectional door, powered or manual? And what about the building limitations such as height/width restrictions? Will the door be in regular use and how important are security features?
Our range of roller doors are sourced from a range of quality manufacturers, and as members of DHF – the trade association for companies associated with industrial doors, shutters, automated gates, locks and building hardware – we're fully committed to providing our customers with the highest levels of technical expertise and professionalism.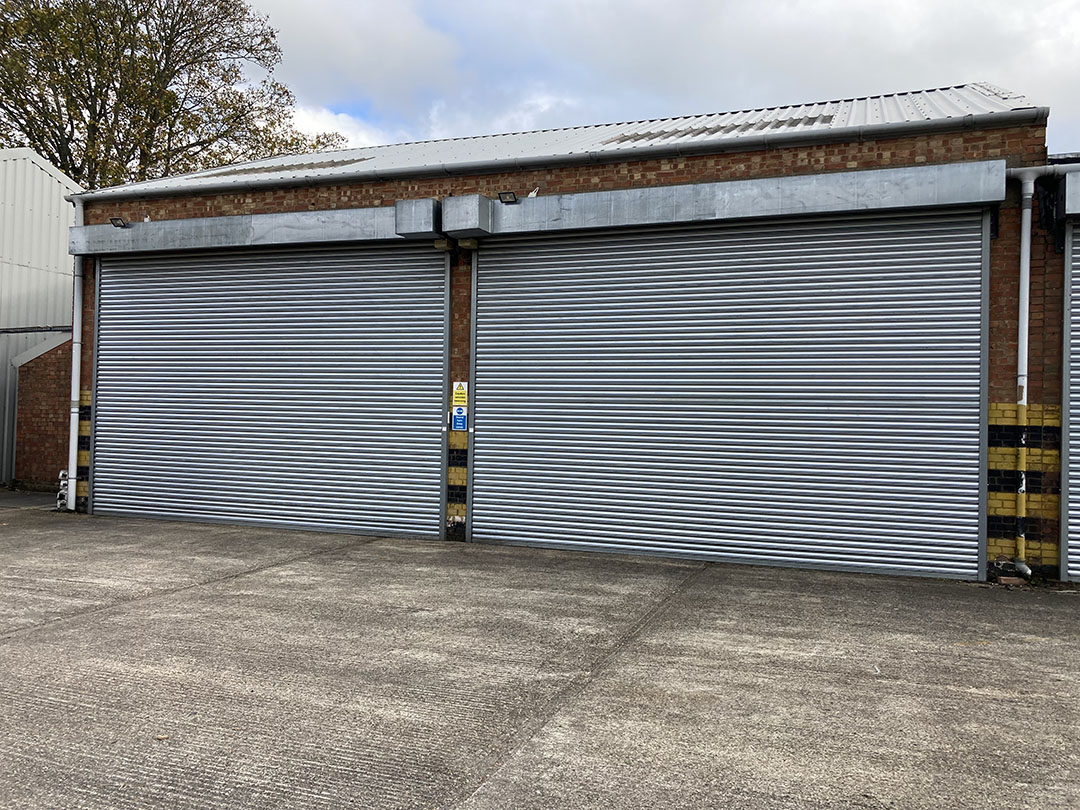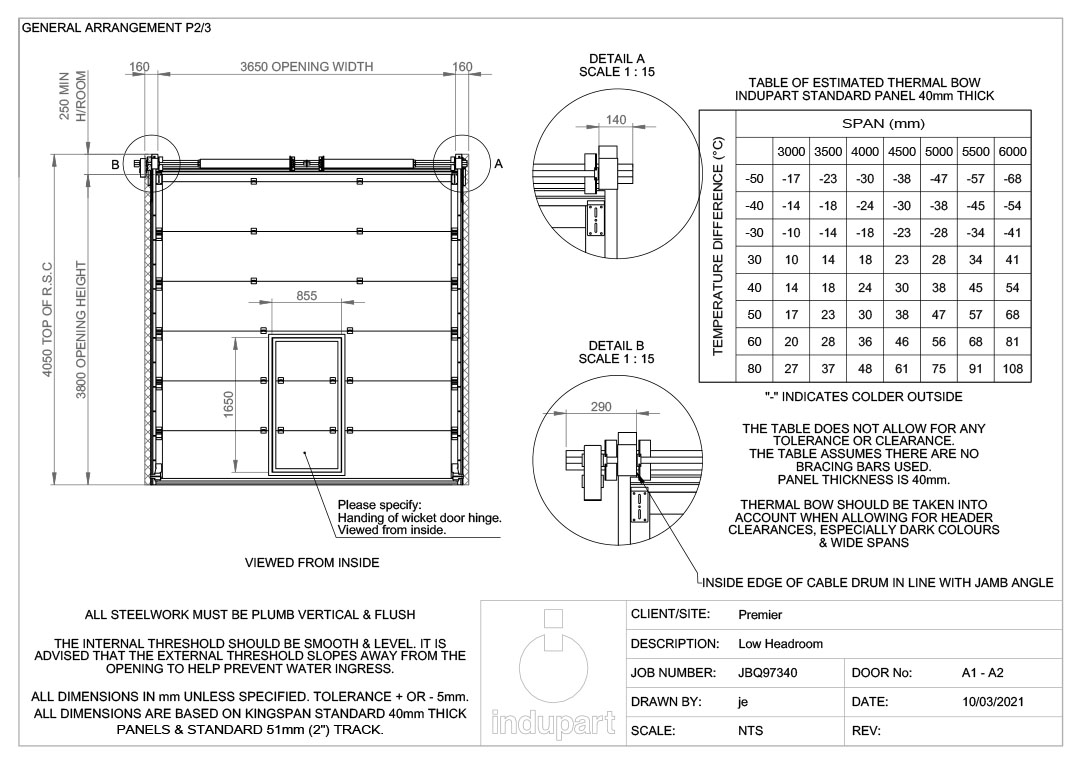 Custom-made doors available
Constructed using galvanised steel, all our doors can be custom made to suit your specific requirements, are available in a range of colour features and come with a range of access features.
On this page, you'll find useful information about different types of roller shutter door, as well as features and benefits. If you're unsure about the best option for you and your business, why not give us a call today?
Types of roller shutter door:
Universal roller shutter
Insulated roller shutter
Rapid roll doors
Fire shutter doors
To help you decide which is right for you, let's take a look at each of these doors in more detail.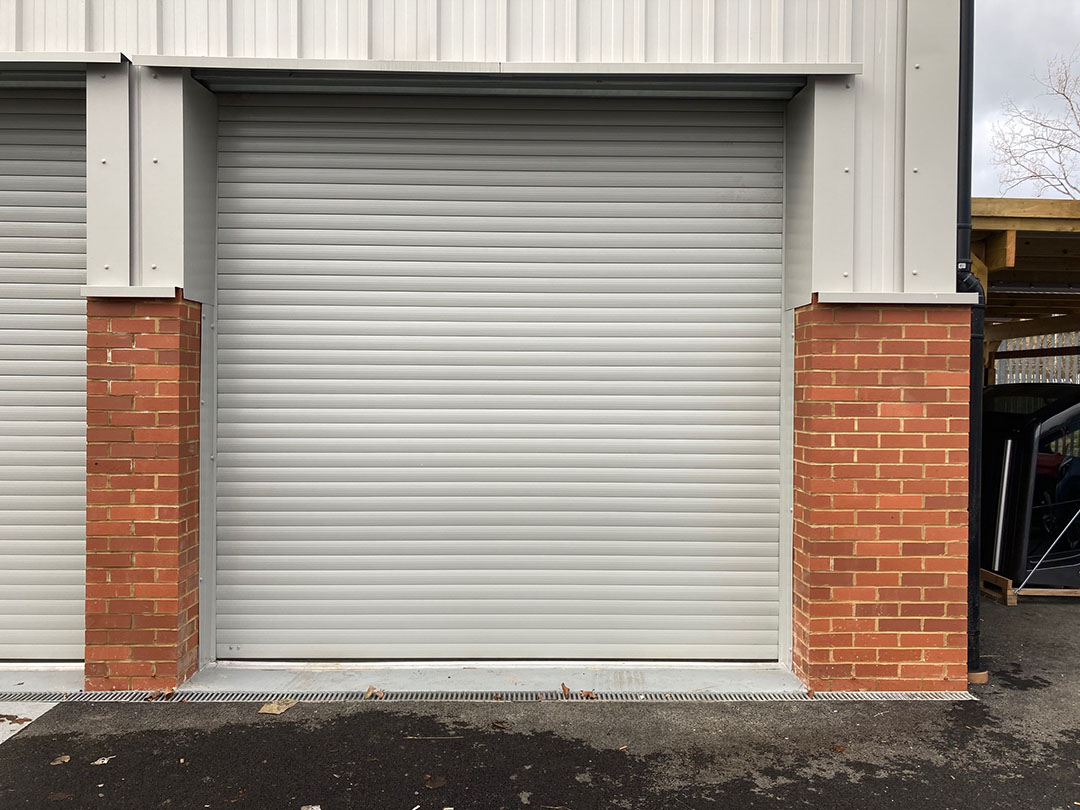 UNIVERSAL ROLLER SHUTTERS
from Premier Garage Equipment
As the name suggests, these doors are suitable for a wide range of applications across the industrial sector and for a straightforward installation, they're a great choice. They're not necessarily a first choice for the security-conscious, but we can help guide you through the buying process.
Our universal roller shutter doors are all priced competitively (and are cheaper than sectional doors), are easy to use and are generally low maintenance. And, we can custom make your doors to fit your specific site layout.
You can choose from a wide range of manually operated or powered doors (with or without a remote) and a variety of controls and finishes.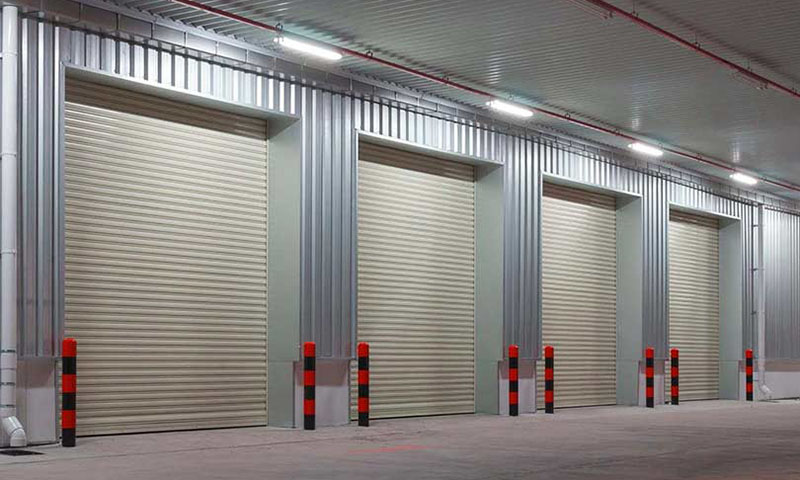 info@premiergarageequipment.co.uk
INSULATED ROLLER SHUTTERS
from Premier Garage Equipment
Insulation is widely acknowledged as beneficial to the environment. It keeps buildings warm in winter, reducing heating loss and as a direct result, reducing your heating bills.
It can also help to keep buildings cool in the summer and reduce your air conditioning bills. In the same way that insulation stops heat escaping, it can also prevent heat from outside entering making insulated doors ideal for heat control generally.
Another benefit to consider is that insulated doors help to reduce noise entering your building.
In summary, insulated roller shutter doors are ideal for:
Temperature control e.g. refrigerated facilities
Tackling noise pollution
Energy efficiency
Draught reduction
Our insulated doors are made from galvanised steel. Each lathe (or door strip) is individually insulated, constructed using a thick polystyrene-type material with a hard plastic moulding. These lathes are then sandwiched between the steel, creating a finished product with insulation properties far in excess of that required by UK building regulations.
Typically found in food preparation factories, they are also an ideal choice for environments where noise pollution is an issue.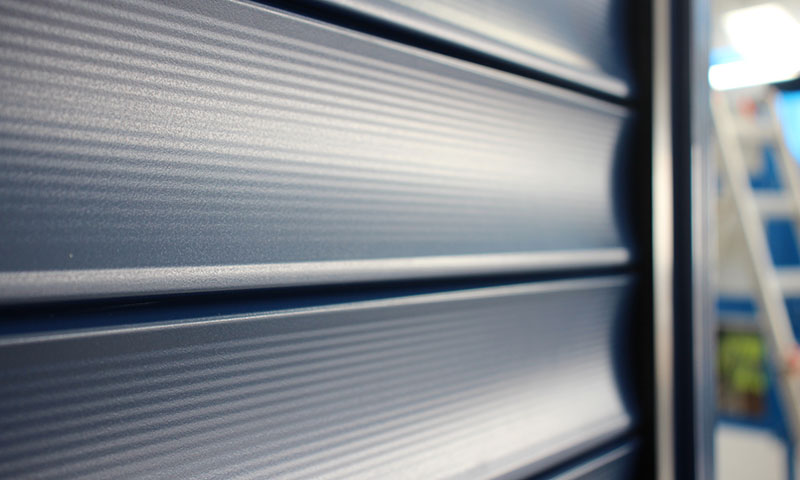 info@premiergarageequipment.co.uk
RAPID ROLL DOORS
from Premier Garage Equipment
Do you need an industrial door which also protects your product? A rapid roll door opens and closes faster than the average industrial door which makes it ideal for sensitive environments and guarantees access when you need it without causing disruption to your business.
Our rapid roll doors can be easily sub-divided providing a range of access options and allowing you to choose how much of the door needs to be open.
These high-powered doors also come with or without vision panels. Vision panels let in natural light and allow you to look at your industrial space without opening the door.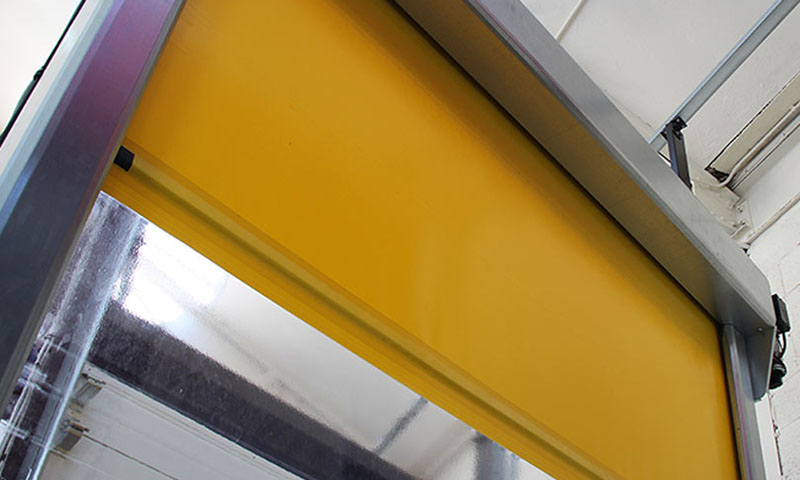 info@premiergarageequipment.co.uk
FIRE SHUTTER DOORS
from Premier Garage Equipment
When fire breaks out, your business and employees are at risk. Installing fire shutter doors minimises that risk and helps you to protect your building, your products and your people. Statistics demonstrate that many businesses fail to recover following a fire. And if you've not taken steps to protect your business adequately, your insurers may refuse to honour a claim.
Fire shutter doors work in a similar way to internal fire doors. They are constructed from fire retardant materials which mean they can withstand fire, heat and smoke for a specific period of time. All our doors come with a fire rating (or fire resistance level) which indicates how long they can withstand the effects of a fire, usually from 30 minutes to four hours.
Building regulations state that doors should provide the same fire resistance as the wall they are built into. What's more, your fire shutters should always form part of a wider fire safety strategy including fire alarms and possibly a sprinkler system. A fire risk assessment can help you determine your approach to fire safety.
As with all industrial doors, when considering which fire shutter door meets your needs, you should take into account:
Headroom restriction
How the door will be used e.g. frequency and what goods will pass through it?
Budget
Aesthetics e.g. are customers nearby and do you need to consider company branding?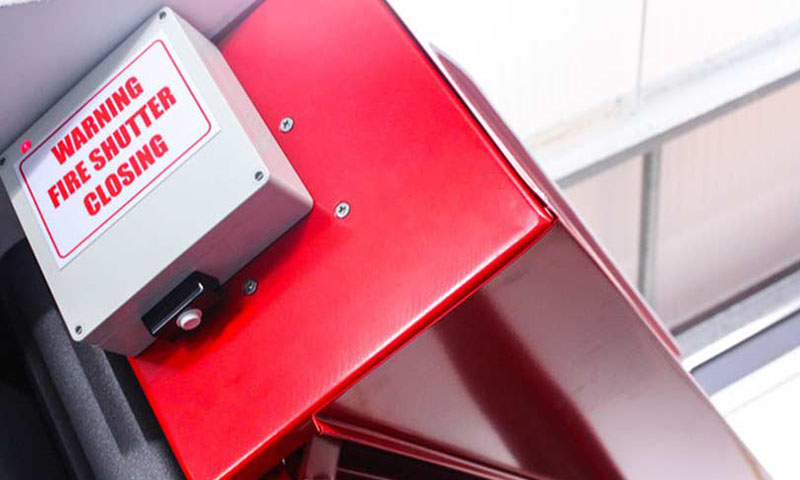 info@premiergarageequipment.co.uk
DRIVE OPTIONS FOR DOORS
from Premier Garage Equipment
Most of our roller shutter doors are available in automatic or manual options. A manual door usually comes installed with a chain for you to pull open and closed. An automatic door is usually supplied with a direct drive or tube operated motor. How do you choose between the two?
Manual doors are often cheaper than automatic, although not always – this will depend on the specific drive option and how technologically superior it is. Your business requirements are generally the driving force behind a decision, but if you're unclear, we can have a chat about which door might be most suitable.
There are two main drive options for automatic doors. A direct drive motor is a heavy duty option and, with considerable power transmission between the motor and the door, is well suited to environments where doors will be in regular use. It's also more efficient for heavier and larger doors up to 6500mm wide and 6500mm high. Do bear in mind that this option requires more space around the door as the working parts are bolted on to the sides.
Most of our doors with a direct drive option are pre-wired for easy installation and include a 1 Ph 3-pin CEE plug or 3 Ph 5-pin CEE plug. A 16 amp socket is required within one metre of the motor drive side of the door, positioned 1500mm from finished floor level.
Doors with tube operated motors are designed for doors in intermittent use in compact environments and are cheaper than direct drive options. They are suitable for internal, external or reveal fits. Your door opening can't be larger than 29m2 as this is the maximum size for tubular motor shutters.
In the case of power failure, these doors can still be operated via a manual hand crank which is fitted as standard. Controls are usually in the form of a wall-mounted key switch or rocker switch.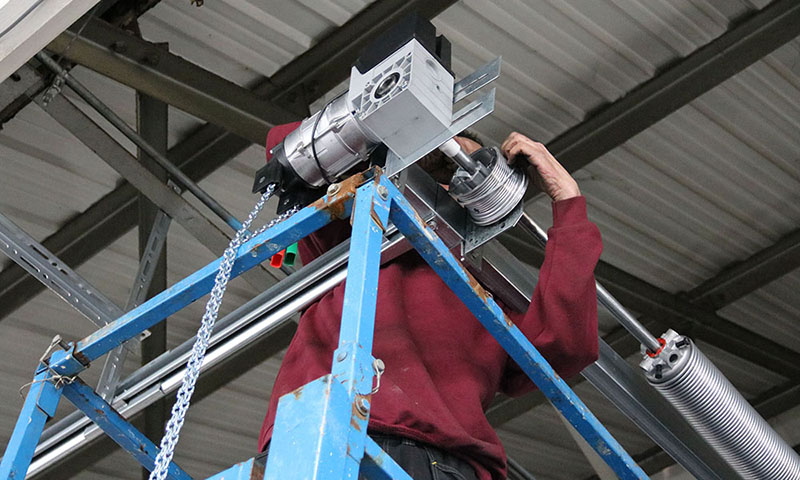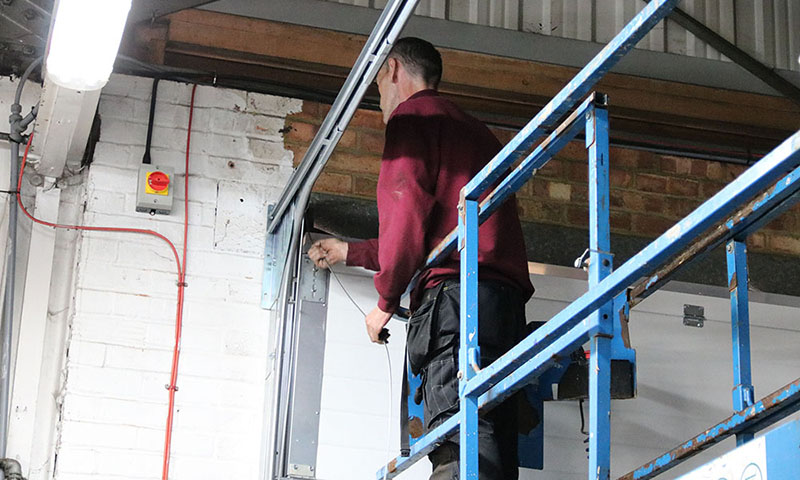 info@premiergarageequipment.co.uk
Get the right roller shutters for your premises
Choosing a roller shutter door to suit your business couldn't be easier when you choose PGE. With our commitment to customer satisfaction and product excellence, you're in the safest pair of hands possible. We'll guide you through each step of the buying process, asking you the right questions to guarantee you make the right purchase.
Why not call us today to find out more about our extensive range of roller shutter doors and how we can help you?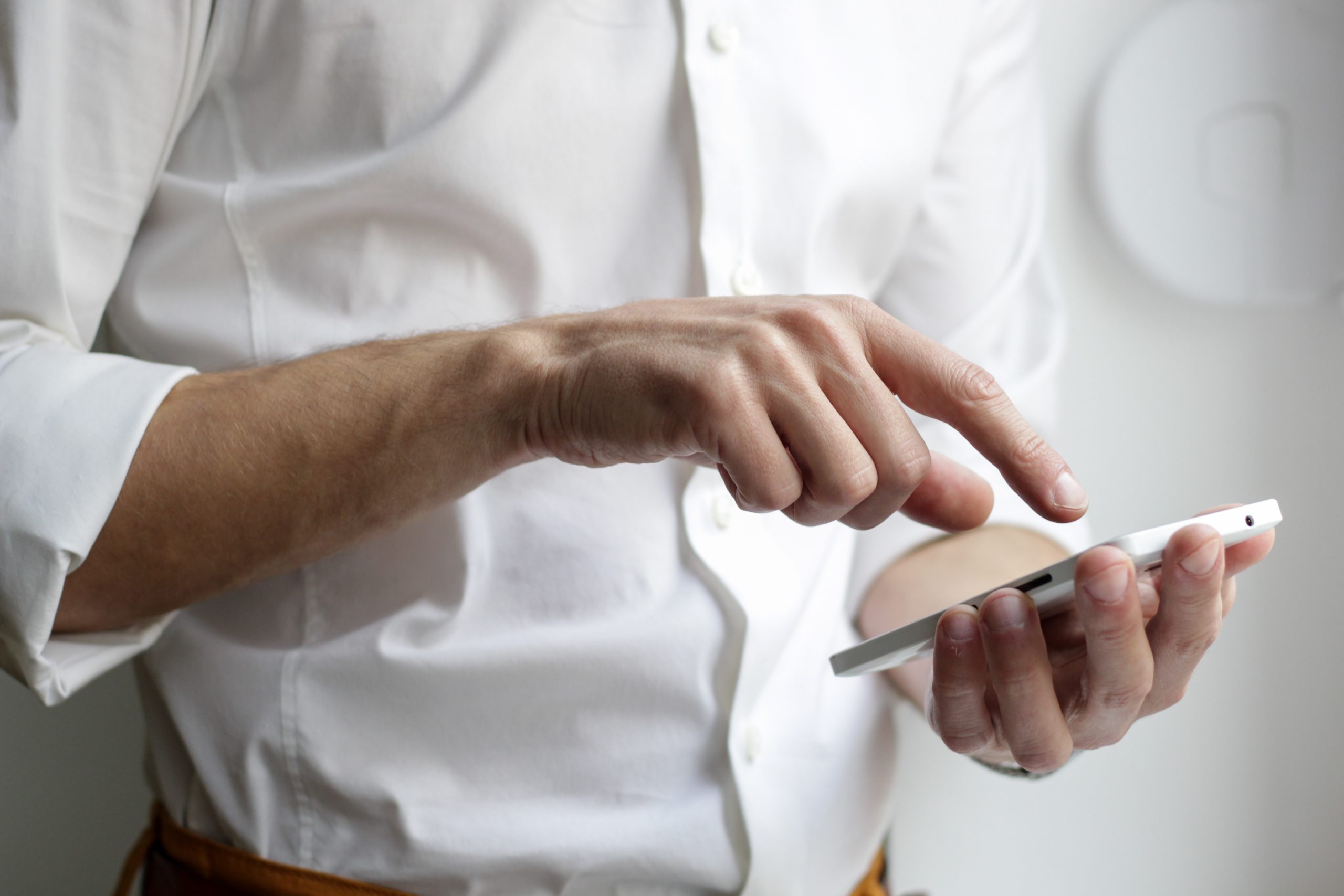 Need Some Help?
If you would like to find out more about industrial doors and discuss how Premier can help you, call us on 01234 765308 or complete the form for a call back.