info@liquidengineers.co.uk
Call or email us to discuss your
liquid engineering requirements.
FLUID DISPENSING AND OIL MONITORING
from Premier Garage Equipment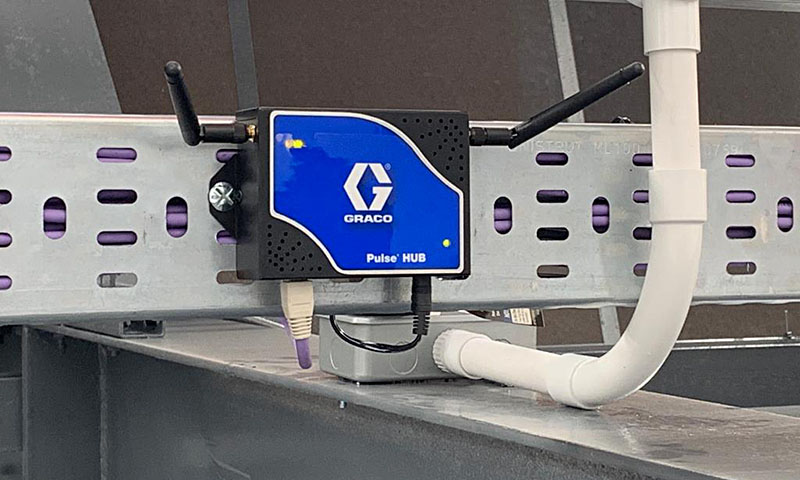 Once you've ensured that your oil storage systems are fully compliant with current regulations, you can focus on fluid dispensing and oil monitoring.
Creating systems which monitor oil distribution in the workplace help to cut costs and boost efficiency. At PGE, we've worked with hundreds of customers to improve their fluid dispensing systems and bring them up to date with more modern technology.
From your main storage tanks, oil is pumped at pressure into the workshop to a fluid dispensing station. There are two ways of designing this system:
1. The oil is pumped to a wall bar (a single tap with a digital display). When oil is required, the technician squeezes the tap nozzle (similar to dispensing fuel in a filling station) and fills up a jug with a specified amount of oil. This is the cheapest method of dispensing quantities of oil from the storage tank.
2. The oil is pumped to a hose reel which sits between two workshop bays. Either bay can access the hose and pull it to where they need to dispense the oil directly into the engine. Using a digital reader the technician can monitor the volume of oil used.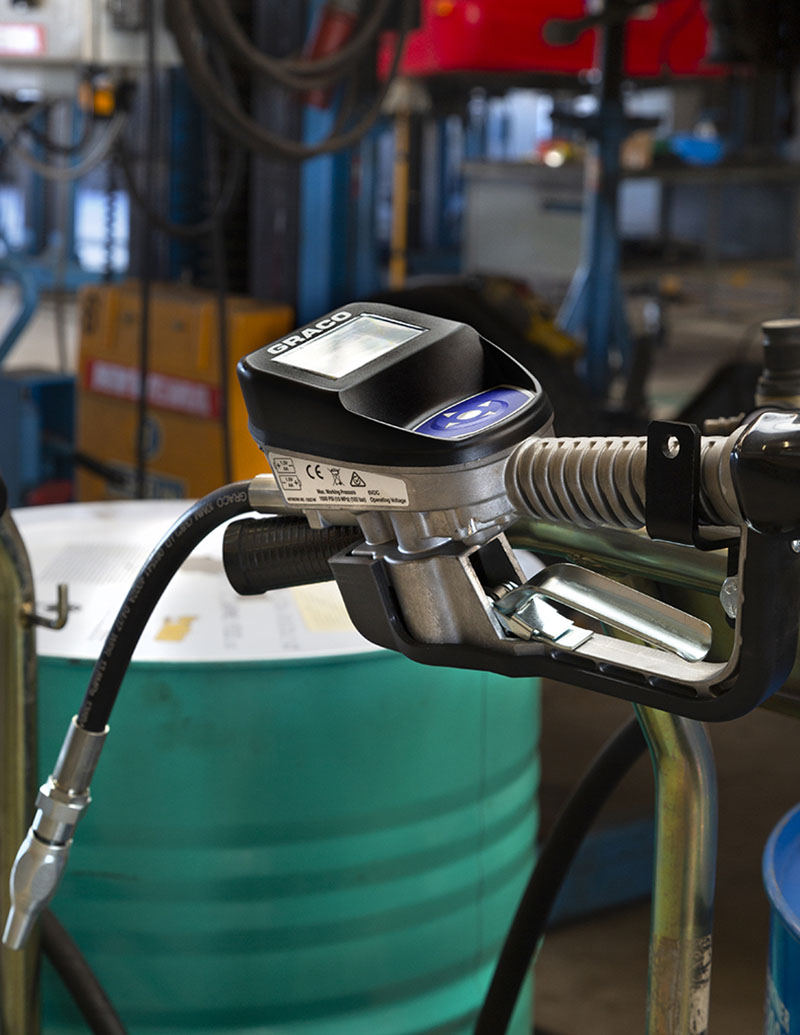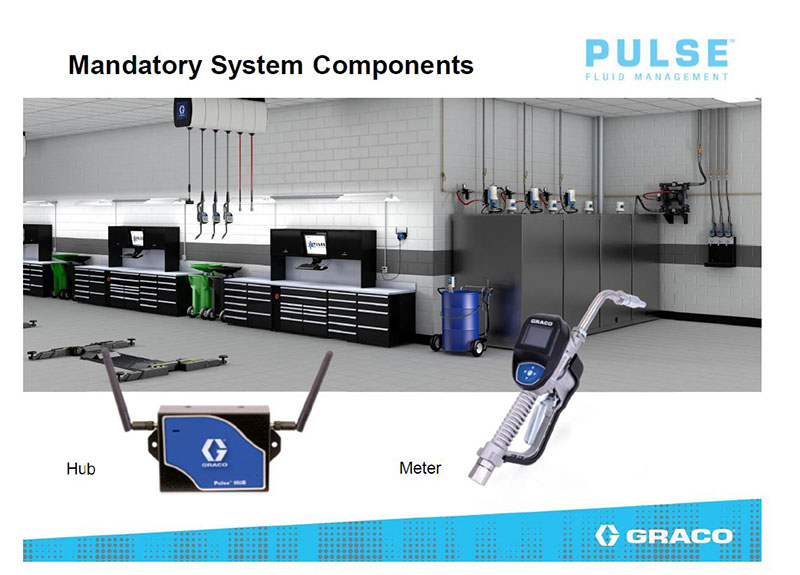 Premium oil monitoring systems
When oil monitoring systems are manually operated, they are reliant on a technician remembering to book the oil volumes taken on to a job card. As you may have experienced, if a technician records these volumes inaccurately, stock control is compromised, or in some cases not at all!
So, what's the solution?
With an automated fluid management system, you are firmly back in control. And with around 10% of oil, on average, lost to ineffective management, it's an essential business tool.
Each time fluid is dispensed, volumes are monitored and transmitted to the parts department with an accurate record of how much oil has been used for each job. And when the tank is filled, increased fluid levels are also automatically recorded.
Everything is tracked in real-time giving you the ultimate in stock control and stock management. As soon as your tanks hit a specified capacity, for example 25%, refills are ordered via automated email to your suppliers. Reducing the need for human intervention and manual monitoring increases accuracy and cost efficiency.
What's more, whenever you need an up-to-the-minute report on oil consumption by volume, or by grade, you can print one off in seconds.
In the image below, you can see a premium oil monitoring system in action.
The grey tanks on the right hand side of the image hold oil, in different grades. On the wall to the far right is the dispensing bar, in this example, dispensing three grades of oil. In this set-up, the technician will use a jug to collect oil directly from the dispensing bar. However, it's also possible – as described above – to install ceiling mounted 10m hose reels which pump the oil directly into a vehicle engine.
Either way, the volume taken is recorded via the oil monitoring system along with the technician's details and the job number. This data is then transmitted via an electronic message directly to the parts department, proving an accurate, real-time record which can be assigned to a client (with an intact audit trail, should one be required in the future).
Hose reels are supplied with meters which log the technician's name, personal pin number and job number. Until that data is inputted, the metre won't release oil; and once the oil is pumped, it records the total volume used against a specific job number. All of this under the bonnet at the point of dispense for maximum efficiency.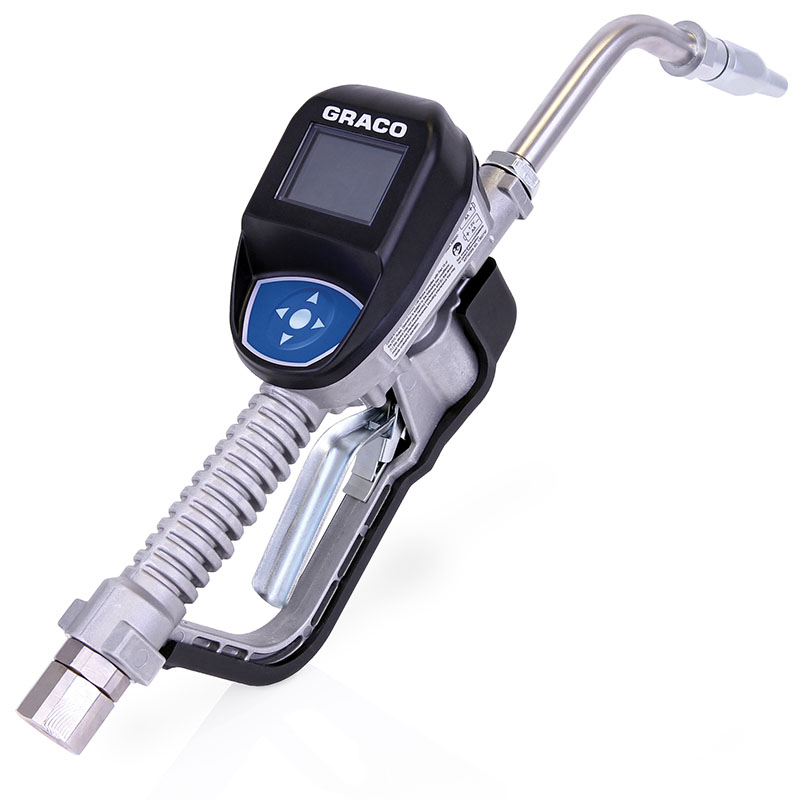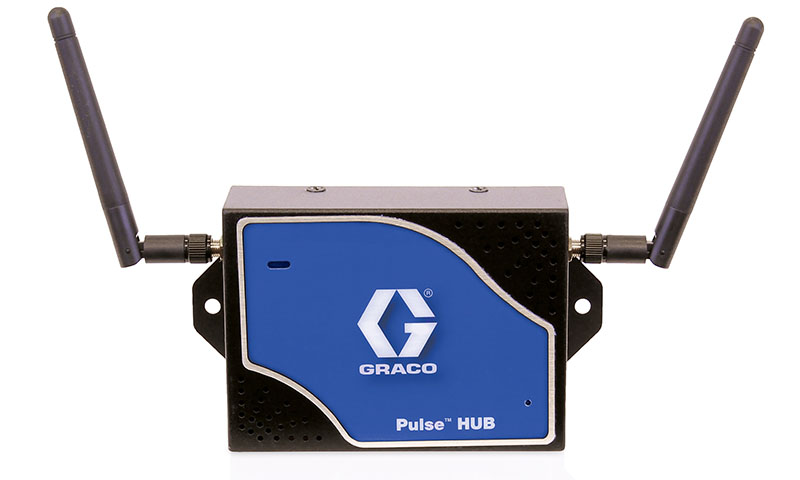 We can also install a hub into your workshop. A hub is an aerial which sits high up on a wall closest to the reels. The hub uses radio scanning technology and receives a signal transmitted by the metre when it is in use which is automatically transmitted to the parts department.
What are the benefits of fluid management?
In any workshop, oil products are a significant income and profit generator (second only to labour). Losing even a tiny percentage – let alone 10% which is the industry average – and not being able to account for that lost product can have a major impact on your bottom line. With a premium fluid management system, you can take back control – and within six months, it will have paid for itself thanks to the improved efficiency of the oil monitoring technology.
In addition to protecting your turnover and profit margin, a fluid management system offers many benefits:
Prevents fluid being dispensed and not booked or billed accurately
Minimises chance of incorrect fluid being dispensed
Significantly reduces human error
Improved security and negates theft
More efficient workflow with less disruption for technician
Allows for management of tank volumes when oil runs low
Creates an audit trail after works completed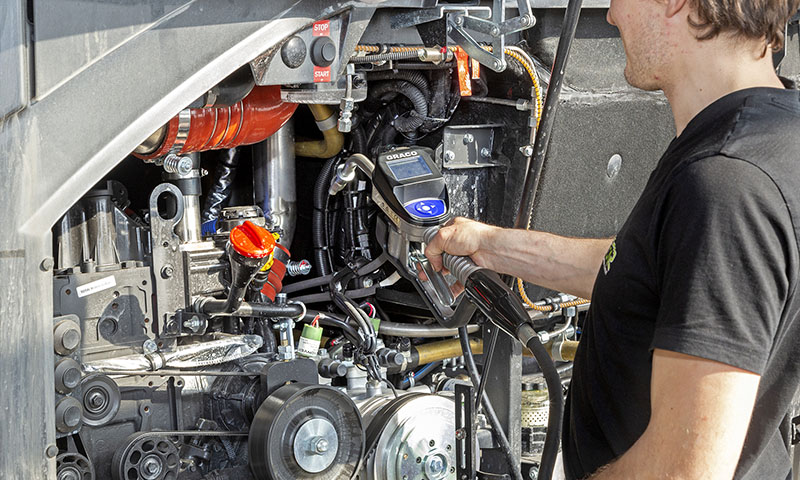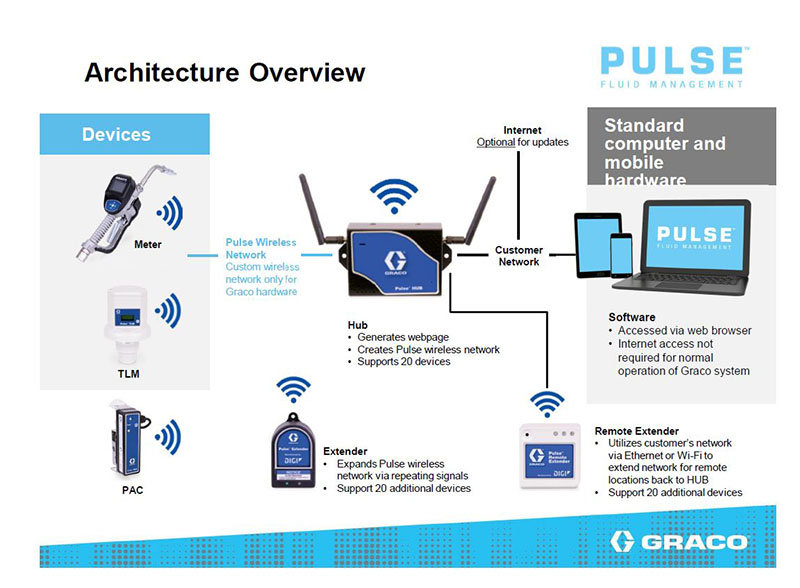 Simplicity of installation
In addition to these benefits, we believe one of the major plus points of a premium oil monitoring system is the simplicity of installation. Designed with wireless technology, installation is clean, quick and simple. You really are paying for the tech, not the time we take to install it.
With simple, intuitive software, the system is easy to operate and user training can be completed in a short space of time meaning your system is up and running within days.
What's more, while it's a wireless system, that doesn't mean it's wholly dependent on WiFi. The WiFi is needed to transmit data, for software updates and for uploading information to the Cloud. But day-to-day, the system runs on its own network which means if your WiFi goes down, your oil monitoring system is still up and running.
Optional system components
There are a range of additional components which can be added to your oil monitoring system which are shown in the diagram below.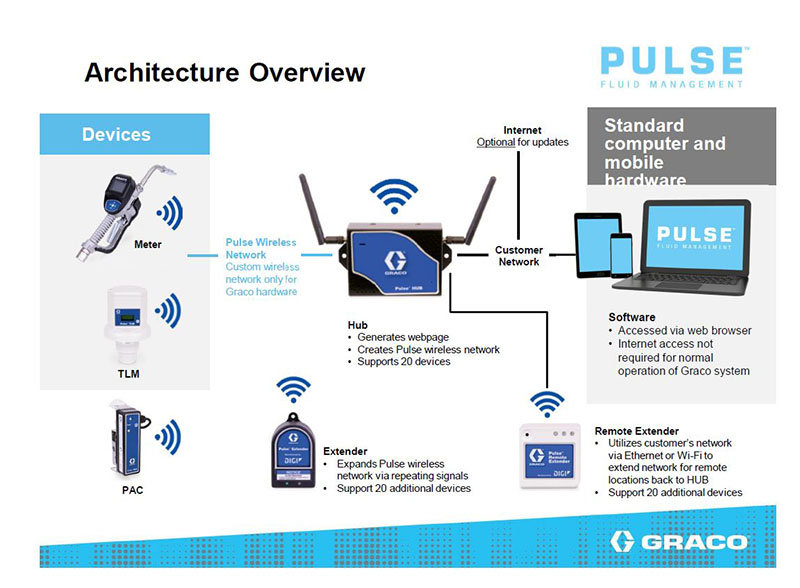 These include:
Tank level monitors which provide real-time readings of oil levels
Air packs which supplies air into pump at pressure, when needed (a safer option than leaving a pump permanently 'live'
Extenders which act like a WiFi booster and amplify the signal to and from the hub (this is useful in large workshops)
Remote extenders which can be used in an additional workshop to collect all data and send to a central monitoring station
Mobile cart which acts as a mobile oil dispenser for smaller-volume oil grades. Supplied with a mobile metre which transmits data in the same way as a fixed metre
At PGE, you benefit from the partnerships we've built over many years with the UK's and Europe's leading manufacturers. We only select the finest quality products – so when you buy an oil monitoring system through us, you are guaranteed a premium result at a competitive price.
Partner with PGE and without a doubt, you'll have access to the most advanced oil monitoring systems available in the UK, backed by over 50 years of combined industry experience.
An oil monitoring has numerous business benefits:
Account for every litre of oil dispensed
Reduces loss with a direct increase in profitability
Monitor tank levels and avoid costly run outs
Peace of mind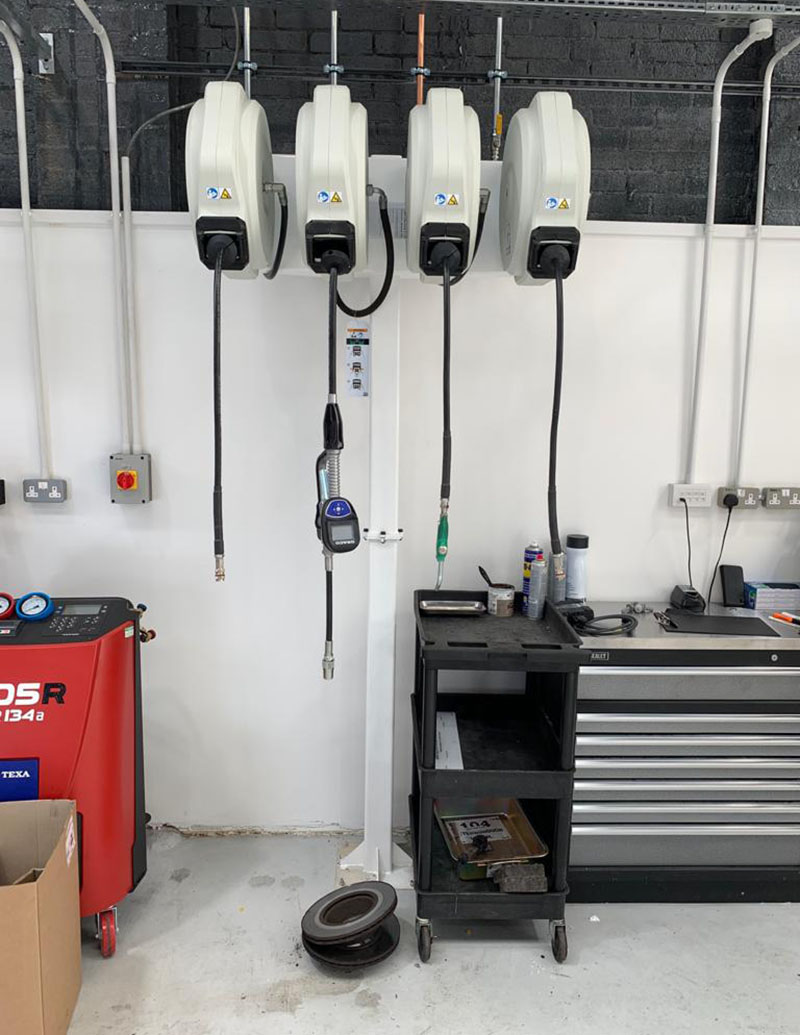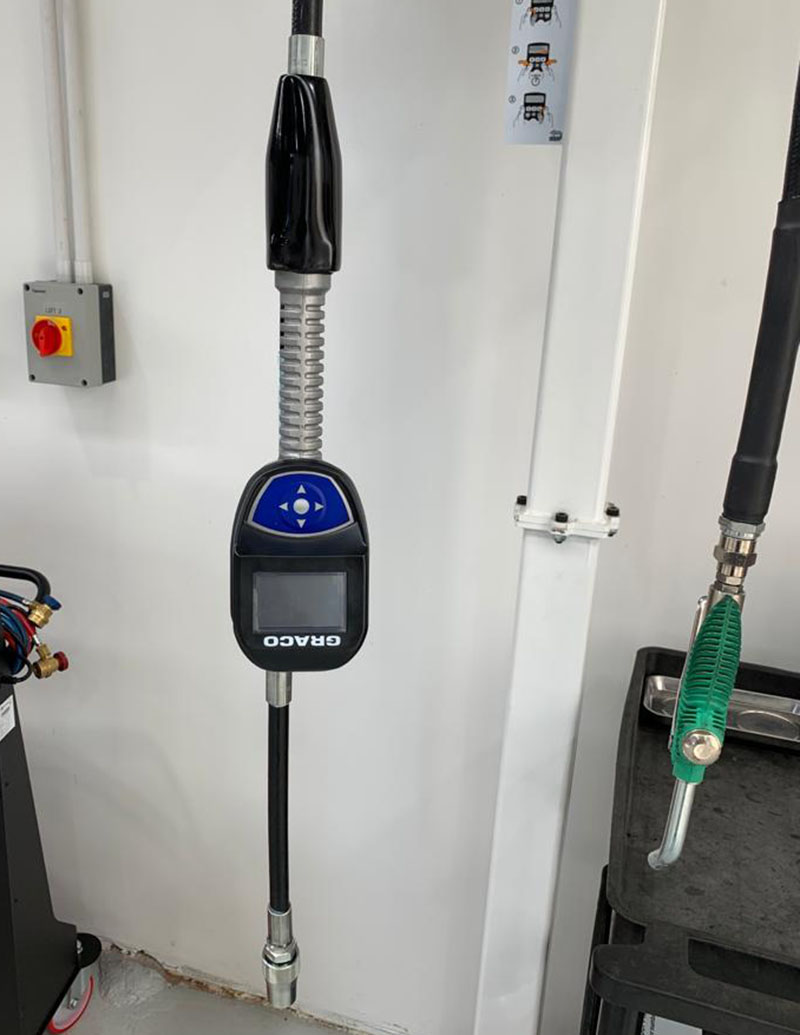 Unique hand-held telemetry dispensing – Delivers improved efficiency as all functions can be carried out from under the bonnet
Easiest and fastest system to install in the market place – Can be installed with minimum down time and disruption to the workshop by our skilled engineers
System controlled air pump supply – No unauthorised dispensing or spill disasters if the compressor is left turned on overnight
Real-time tank stock level reading – Never run out of oil as this can be linked to direct email to your oil supplier
Excellent aftersales support package including:
Dedicated telephone support (90% fix rate over the phone)
Extended warranty packages
Software update packages for the life of the system with 12 monthly calibration contract
Once we've installed your oil monitoring system, planned maintenance is important; it minimises business interruption and ensures the longevity of your equipment.
We are on hand to create a service and maintenance schedule to suit your business needs. Find out more about our liquid engineering aftersales, or for any general enquiries please get in touch today.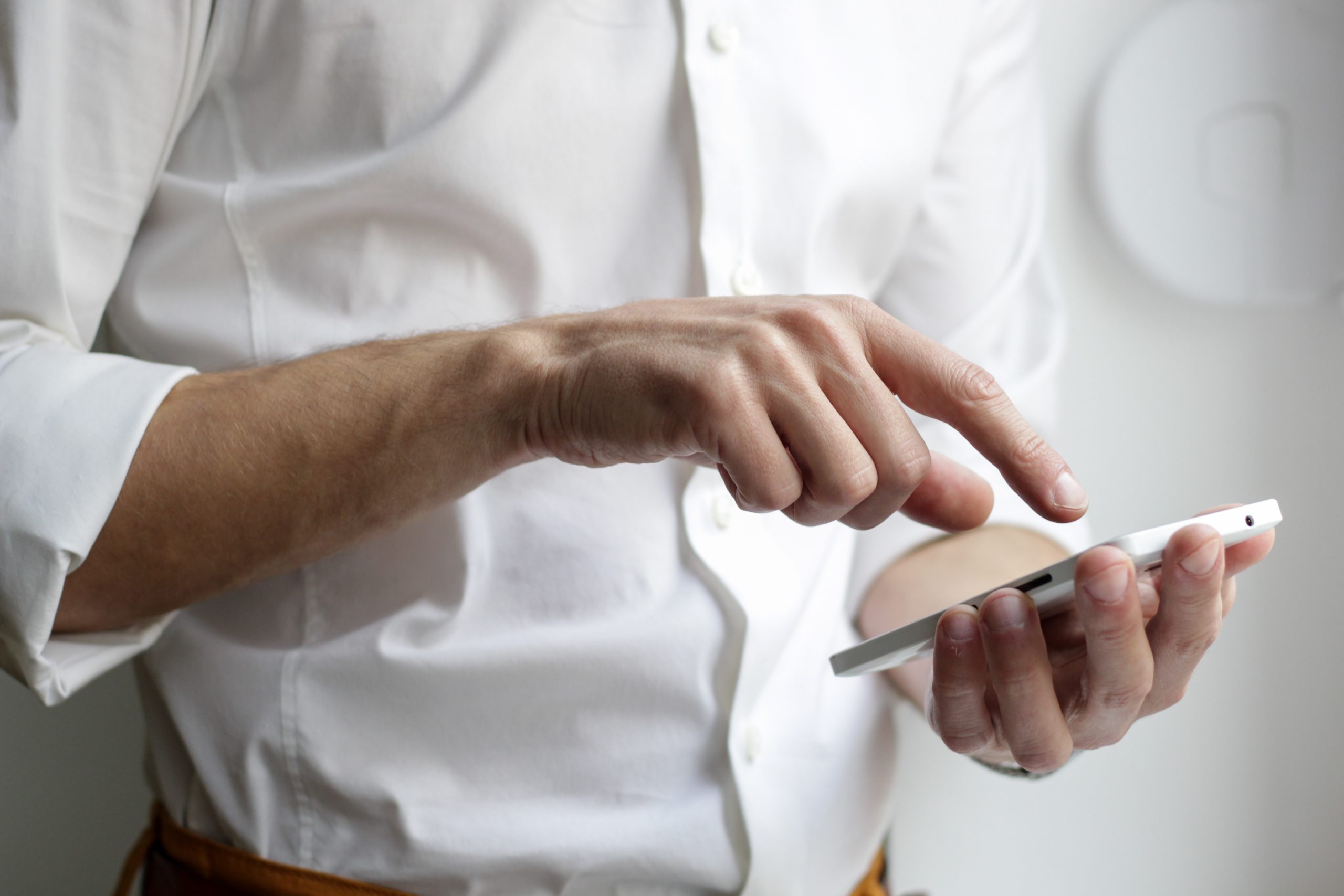 Need Some Help?
If you would like to find out more about industrial doors and discuss how Premier can help you, call us on 01234 765308 or complete the form for a call back.