Call or email us to discuss your industrial doors survey, supply,
install and maintenance.
INDUSTRIAL DOORS – DESIGN AND INSTALLATION
from Premier Garage Equipment
Industrial doors – design and install
Are you on the lookout for a new industrial door or automated gate? In need of advice, but unsure where to start? At PGE, we provide a one-stop shop, from the initial survey, through to design, supply and installation.
We can install roller shutters, sectional overhead doors, sliding folding and rapid action industrial doors as well as a wide range of automated gates.
Each stage is crucial to the final result and ensuring you get a door which is fit for purpose, great quality and long-lasting. And once your doors are installed, we provide superb aftercare, guaranteed to keep your industrial doors in excellent working condition for years to come.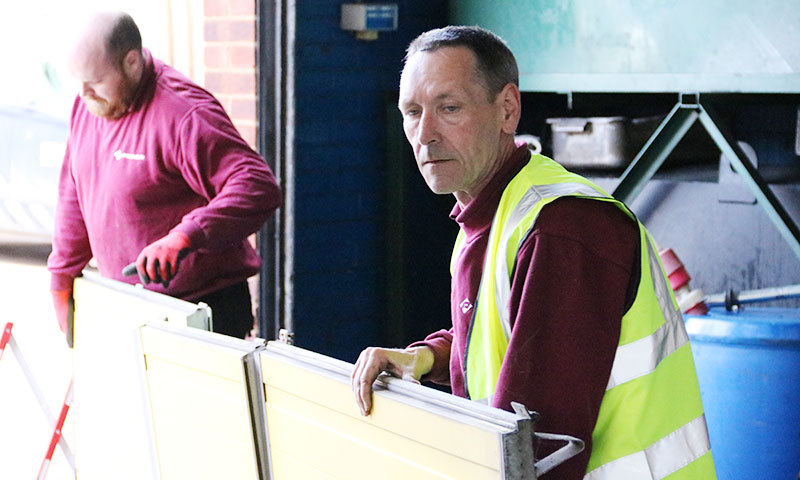 info@premiergarageequipment.co.uk
SURVEY STAGE (DOORS)
from Premier Garage Equipment
Do you need a door or can we fix your existing door? Before you commit to the financial outlay of new doors, it's worth contacting us to find out if a repair will suffice. We can visit you and carry out a site survey, even if we didn't supply your doors, and discuss your options.
There are a few reasons why you might believe a new door is necessary.
1. Door not opening or closing correctly
It may be a faulty lock or other hardware which is preventing your door from closing. Further to an inspection, we can advise you on the best course of action. Clearly, security is a primary concern, and if we don't believe we can make your door fully secure with a repair, we will advise you to buy a new door.
2. Uncontrolled opening and closing
In busy industrial areas, your doors must always conform to health and safety standards. If your door is closing too fast (and is dangerous) or too slowly (not ideal in hygiene-sensitive environments), it requires attention.
3. Unusual noises made by the door when in operation
This could be a problem with the motor or other working parts. If we have concerns that the door is unsafe, we will always recommend immediate repair, if possible, or a replacement door.
4. You have an old door with cosmetic damage
Although cosmetic damage alone sounds like it should be low down on your list of priorities, a door with visible damage is attractive to intruders if they believe it can be easily compromised.
And if you're growing your business and are keen to attract new customers, it's always worth making sure your premises are as presentable as possible.
Remember, regular servicing and maintenance will prolong the life of your doors and reduce the need for unnecessary and costly repairs. At PGE, we can build a maintenance package to suit your needs, and your budget.
If you do decide to purchase new doors, the results of the site survey along with your brief will help us to progress to the next phase – design.
info@premiergarageequipment.co.uk
SURVEY STAGE (GATES)
from Premier Garage Equipment
If you're in the market for automated gates, we'll also need to conduct a site survey. We'll run through your requirements and ask you a series of questions to establish exactly what you need. All our systems are fitted with the latest automation and access control equipment.
However, before you commit to the financial outlay of new gates, we always recommend you contact us to find out if a repair or upgrade will suffice. It doesn't matter if we didn't supply your gates; we're always happy to visit you and discuss your options.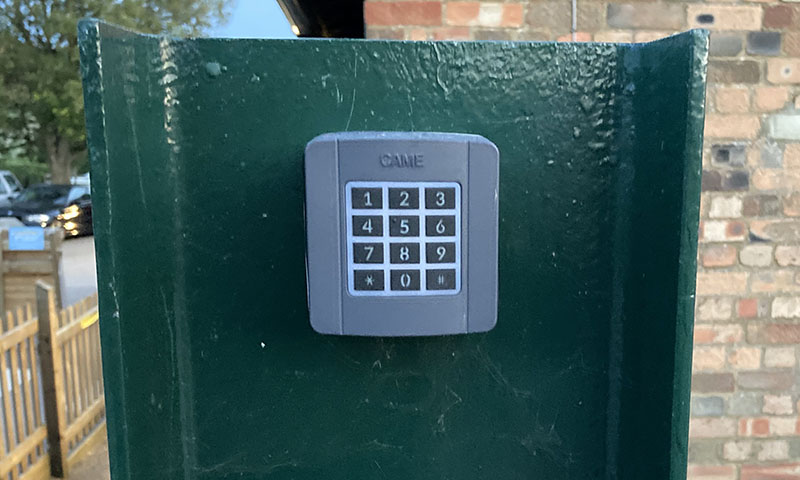 info@premiergarageequipment.co.uk
DESIGN STAGE (DOORS)
from Premier Garage Equipment
In our opinion, the design process is akin to buying a car. There are many questions to be answered and many options to consider before we can make a suitable recommendation. For example:
How much do you want to spend?
Do you have a door spec in mind?
Is design and colour important?
Is ceiling height restricted in any way?
What features are most important to your business?
The last question is particularly important. Different industrial doors have different features and we want to be sure you get the door you need. For example, how often will the door be opened and shut? Is speed of retraction important? Is a fire resisting door required? Are vision panels required (to let in daylight), or a definite no-no (for security reasons)? Does access control – to open the door – need to be set up in a particular way, e.g. remote or standard push button controls?
You might have a specific need for an induction loop or radar sensor. An induction loop is a magnetic sensor in the floor which detects vehicles as they approach and opens the door automatically. A radar sensor also operates doors automatically but does so by emitting a radio wave which can detect approaching vehicles.
With this wealth of information, we can start to make recommendations about the type of door which we believe fits your brief. For example, in buildings with limited space around the opening, or where the ceiling height is restricted, a sliding folding door is ideal. And for buildings which are temperature controlled or hygiene-sensitive, a rapid action door would be required.
At this stage, and once you've placed an order with us, our team will produce detailed specs. For larger jobs where several doors are ordered, we'll also supply CAD drawings.
There may be some to-ing and fro-ing between you and us before the designs are approved. Once they are, we proceed to the installation phase.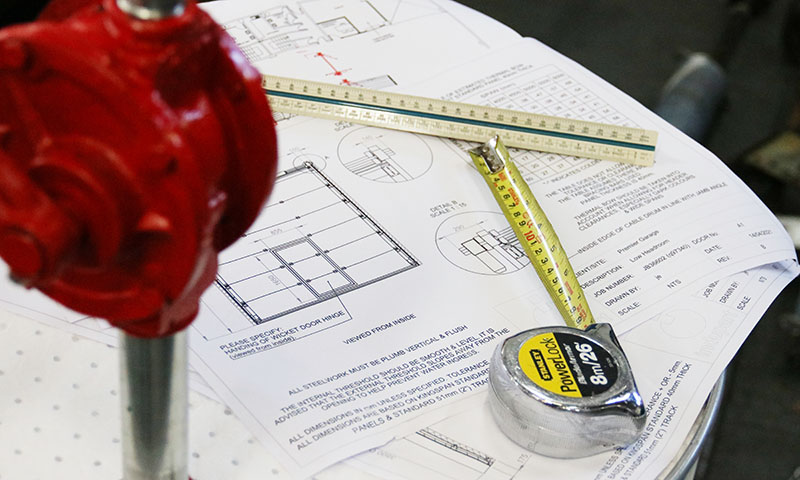 info@premiergarageequipment.co.uk
DESIGN STAGE (GATES)
from Premier Garage Equipment
If it's decided that new gates are required, at the design stage we'll explore all the options, particularly around functionality. Are you interested in new entry technology such as key cards or a key fob proximity system, to ensure safe and secure entry to the premises?
All business premises are different and have different requirements, so we're careful to ensure we meet your individual needs with whatever solution we offer.
info@premiergarageequipment.co.uk
INSTALLATION
from Premier Garage Equipment
Probably the most satisfying phase, installation must also be handled carefully. For the safety of everyone in the workplace, we insist that your installation complies fully with all health and safety regulations, and quality standards.
Please beware of any supplier who tries to cut corners to save money. It's always worth checking for third-party accreditations which are a good sign of a supplier's credentials. As DHF members, we are 100% committed to responsible working practices which are independently overseen by DHF.
Prior to working on customer installations, all our technicians undergo hours of specialist training. We may use sub-contractors to install your industrial doors and automated gates; if we do, rest assured they are carefully selected for their specialist skills and technical know-how. Every technician is carefully supervised to ensure a high-quality result.
The entire installation team is fully committed to delivering on time and on budget, and with safety in mind. And it goes without saying that we aim to install your new industrial doors and gates as quickly as it is safe to do so to ensure minimum disruption to your business.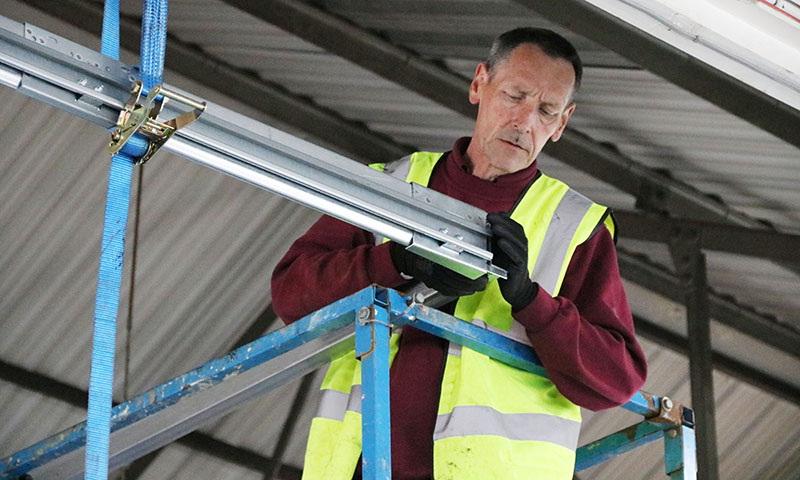 info@premiergarageequipment.co.uk
Current legislation and regulations
from Premier Garage Equipment
Your duty of care to your employees is enshrined in law under the Provision and Use of Work Equipment Regulations 1998, also referred to as PUWER 1998. It regulates the use of machinery and equipment in the workplace – who uses it, how it's used and the frequency of inspections.
We can guide you through this legislative maze, but in simple terms, under PUWER 1998, you have a few key responsibilities:
1) all equipment, including your new doors and gates, must be fit for purpose
2) they must be correctly installed
3) they must be regularly inspected and repaired when necessary
4) they must only ever be used by people who have receive appropriate training
5) they must have adequate safety measures
info@premiergarageequipment.co.uk
Automated gates are classified as machinery under the EU Machinery Directive and the Supply of Machinery (Safety) Regulations has enacted this directive into UK law. With newer, more powerful gates and barriers readily available on the market, safety concerns must be taken seriously.
Under this directive, a responsible person (usually the manufacturer) must, among other things, ensure that key safety requirements are met, clear maintenance instructions are issued and that the gate is clearly CE marked. Failure to do so can result in prosecution.
There are many other pieces of legislation which apply to all parties involved, from manufacturers, to installers, to owners. You can find out more information here.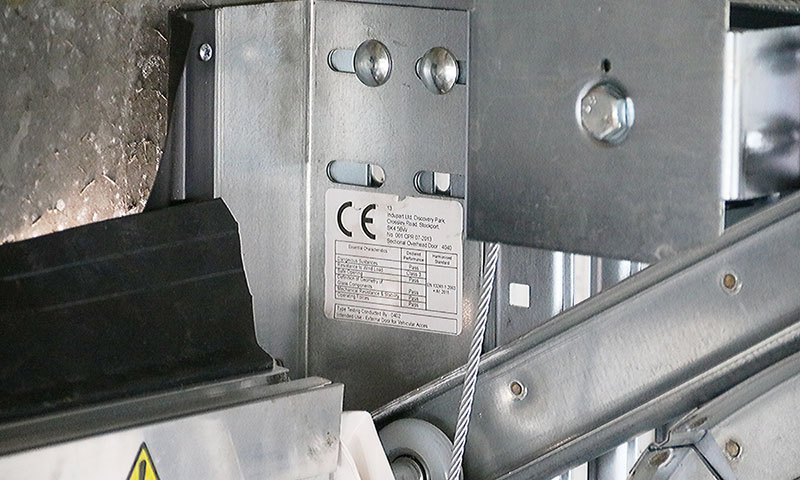 info@premiergarageequipment.co.uk
Are you Considering New Industrial Doors or Automated Gates?
At PGE we believe our methodical, professional and innovative approach to design and installation will meet all your needs. We work with customers across a wide range of industry sectors and have a huge amount of experience in this area.
To find out more about how we can help you, please contact us for more information today.
Related Industrial Door Design & Installation Services
All of our services go hand-in-hand, you may also require our help with: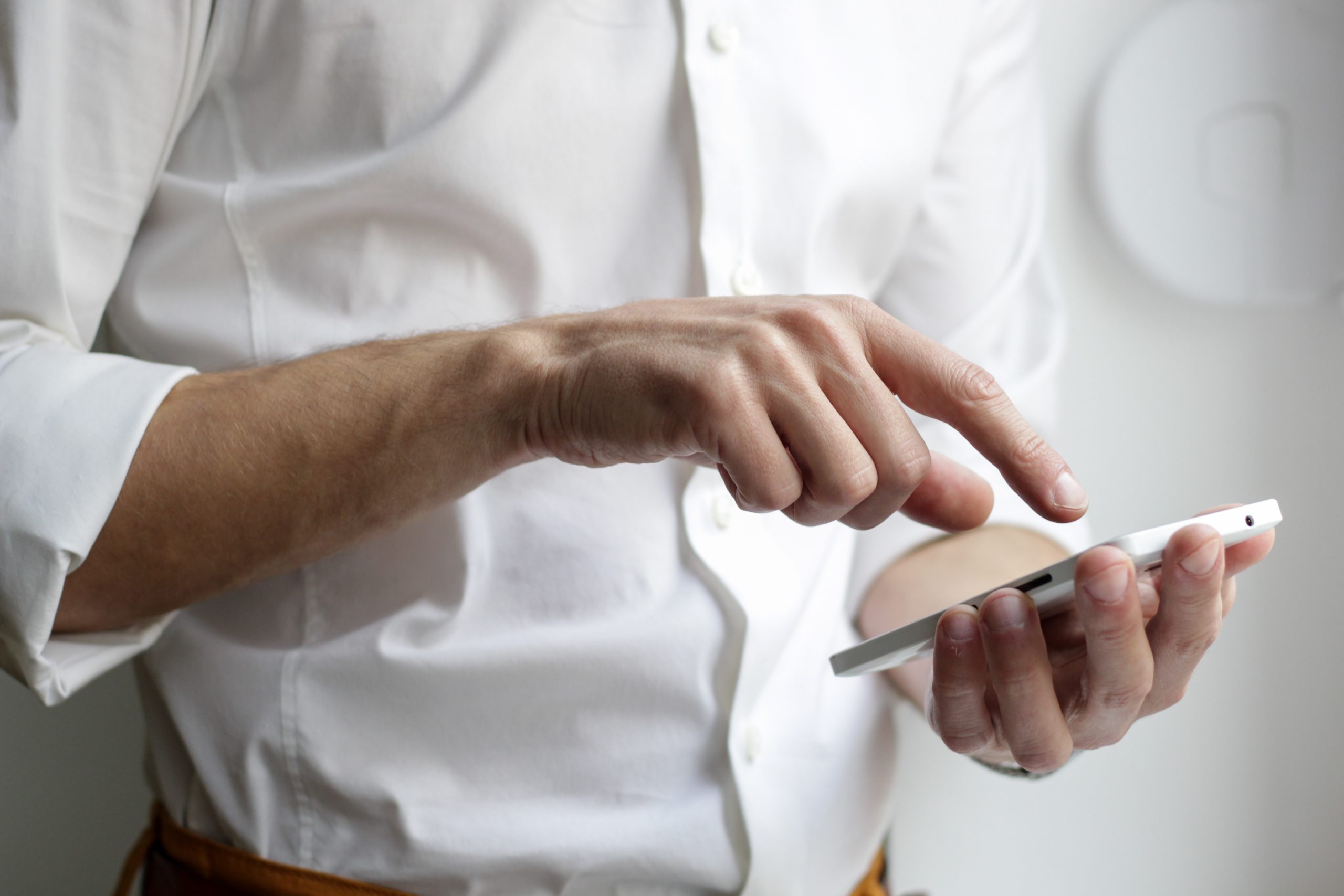 Need Some Help?
If you would like to find out more about industrial doors and discuss how Premier can help you, call us on 01234 765308 or complete the form for a call back.

Director - GRT
"Premier Doors recently installed two roller shutter doors at our premises in Wootton Bedfordshire. The first was for the main entrance door at our new office building which required better site security due to the remote location and the second was installed in the main meeting room on the ground floor. From the initial survey through to the design, supply and installation stage the service was seamless. They had a great understanding of our security concerns ensuring the doors were fit for purpose and great quality."